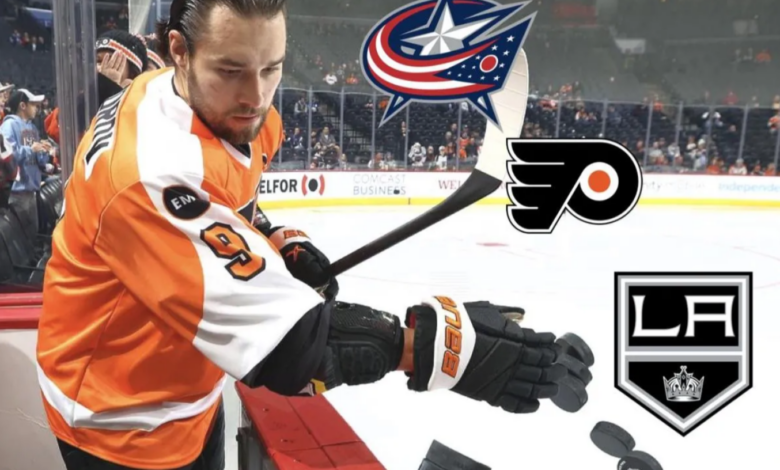 In the most recent moments, a significant NHL deal took place.
Cal Petersen and Sean Walker move to Philadelphia, Ivan Provorov to Columbus, and the Kings keep 30% of Provorov's pay.
According to David Pagnotta:
Some more details:

Provorov to CBJ
Walker, Petersen to Philly
Kings will retain 30% of Provorov deal

— David Pagnotta (@TheFourthPeriod) June 6, 2023
I believe Provorov will end up in Columbus and Cal Petersen in Philly. Not sure of all pieces.

— Elliotte Friedman (@FriedgeHNIC) June 6, 2023
In order to free up some salary space and make some roster changes, the Flyers and Kings in effect offloaded some problematic contracts. With Peterson and Walker, the Flyers acquire a goaltender and a defenseman with some potential. The Kings are now able to re-sign pending UFA Vladislav Gavrikov since they have roughly $5 million in cap space available to them. A seasoned defenseman who perfectly fits the mold of the new head coach Mike Babcock is acquired by the Blue Jackets.
Although paying some of Provorov's salary was a necessary expense of doing business for the Kings, I believe they came out ahead in this transaction. Given that Peterson lost the team's trust this season and was even placed on waivers at one point, his $5 million yearly contract is utterly absurd.
The Flyers can now attempt a small Peterson reclamation project since they have finally, mercifully moved on from Provorov. I'm most interested to see what new GM Daniel Briere does with Carter Hart right now.
*********UPDATE:
officially the trade details are now:
Deal looks like:

CBJ receives:
Ivan Provorov (PHI)➡️ (CBJ)

PHI receives:
Cal Peterson (LAK) ➡️ (PHI)
Sean Walker (LAK) ➡️ (PHI)
Helge Grans (LAK) ➡️ (PHI)
2023 1st Rd Pick (22nd overall)
2023 2nd Rd Pick (LAK pick)

LAK:
Retains 30% of Provorov
Shed Peterson's Contract https://t.co/Q3XCExWwZd

— Daily Faceoff – Fantasy (@DFOFantasy) June 6, 2023