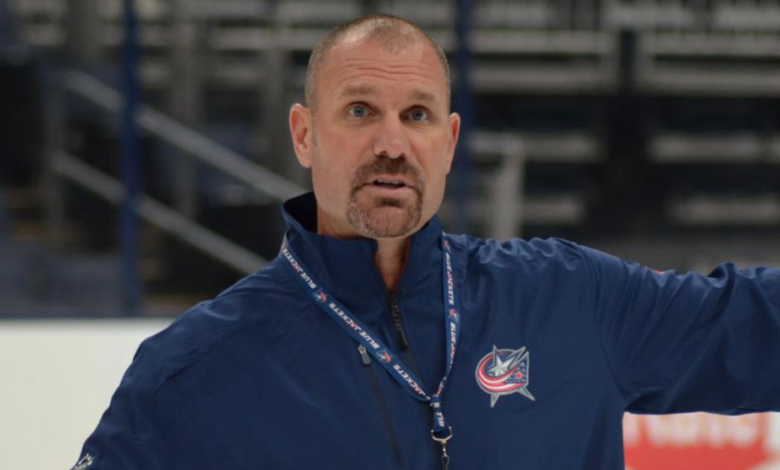 After two seasons in charge, the Blue Jackets fired head coach Brad Larsen on Saturday morning. Larsen recorded a 62-86-16 record, including a 25-49-8 mark in 2022–23 that was the second-worst in the league with his time in Columbus.
The organization also disclosed that goaltending coach Manny Legace will not be returning.
Columbus lost 5-2 to the Buffalo Sabres on Friday night at Nationwide Arena to end its season, earning second-best odds (13.5%) for the top overall choice. On May 8, the NHL Draft Lottery will take place.
"This season has been extremely disappointing and the responsibility for that lies with all of us," Blue Jackets general manager Jarmo Kekalainen said. "These decisions were difficult and not made lightly given our respect for both Brad and Manny as coaches and people. Brad has been part of our organization for more than a decade, and we are extremely thankful for his hard work and many contributions – both on and off the ice – during that time. We wish nothing but the best for Brad and his family in the future."
Larsen served as a Blue Jackets assistant coach for seven seasons (2014–15–2020–21) before taking over as the eighth head coach of the organization for the 2021–22 campaign.
The Jackets started 2021–22 off well, going 12–8–0 through November. The squad was 31-27-3 on March 16th, following a three-game winning streak in the middle of the month. They lost steam, though, and their season ended 6-11-5.
Expectations were increased for the Blue Jackets going into 2022–23 with the signing of all-star forward Johnny Gaudreau in the offseason. Zach Werenski, a star defenseman, was lost for the year after just 13 games due to a ruptured labrum. Regrettably, the squad caught the injury bug early in the season. The Blue Jackets finished the season with a total of 550 man-games lost, leading the NHL, while having 47 different players wear the team's jersey.
Before moving to Columbus, Larsen spent two seasons (2010–11 and 2011–12) as Springfield Falcons' assistant coach before taking over as head coach for an additional two seasons (2012–13 and 2013–14).
Legace spent his tenth season in the Blue Jackets organization this year. He had previously spent the previous five years in a similar capacity with the club's AHL affiliates, the Cleveland Monsters and Springfield Falcons.