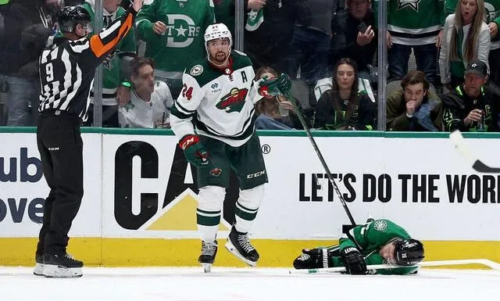 The Minnesota Wild defeated the Dallas Stars 3-2 in double overtime in game one of their NHL playoff series, but the focus of the game was on the Wild's Matt Dumba and the Stars' Joe Pavelski.
Dumba absolutely smoked the veteran in the game with a huge hit. Pavelski was sent to the locker room. The hit was initially classified as a major, but after further review, it was downgraded to a minor.
Matt Dumba lays a late hit on Joe Pavelski and receives a 2-minute minor penalty for roughing. pic.twitter.com/a6XTWf4Hup

— Sportsnet (@Sportsnet) April 18, 2023
Following the hit, many wondered if the NHL's Department of Player Safety would summon Dumba for a hearing that would result in a suspension. That, according to ESPN's Greg Wyshynski, is not going to happen.
"NHL Player Safety will NOT have a hearing for defenseman Matt Dumba after his hit took center Joe Pavelski out of Game 1 last night," said Wyshynski.

"Source tells me it was considered 'close to being late, but within allowable window.' Dumba was given a roughing minor."
There is no current word on whether Pavelski will be playing in game two of the series Wednesday.