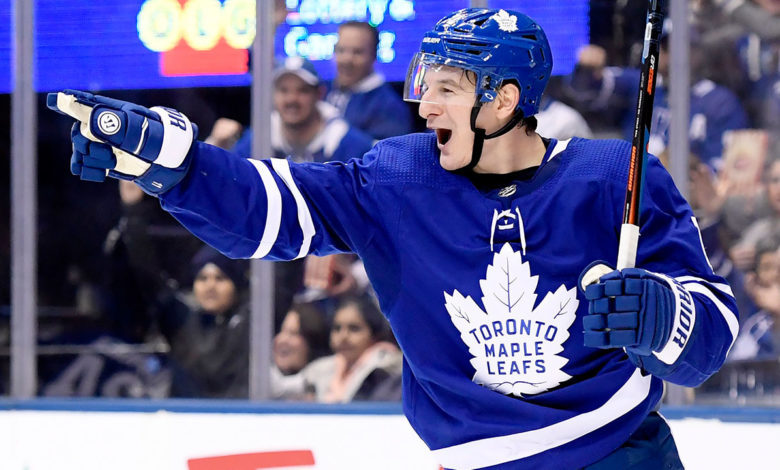 Toronto Maple Leafs winger Zach Hyman met with the Edmonton Oilers earlier on Wednesday.
With Zach Hyman in Edmonton visiting the #oilers today, as @JasonGregor reported, there remains a possibility of a sign-and-trade scenario with the #leafs that could get him a max eight-year term.

— Chris Johnston (@reporterchris) July 21, 2021
Hyman who is reportedly seeking a long-term contract with more than $6 million in annual salary just can't be afforded by the Leafs.
However, Johnston reports the Maple Leafs have indicated a sign-and-trade for Hyman — which would allow the 29-year-old to sign an eight-year contract — which is on the table with a reported $5.5-6 million per year deal.
Can confirm the Edmonton #Oilers have both 7 and 8 year contracts agreed to with Zach Hyman. EDM and TOR are working to execute a sign & trade which will pay Hyman 8 yrs. at around $5M. Salary comes in higher in middle of contract and includes some no move protection. #Leafs

— Andy Strickland (@andystrickland) July 22, 2021
Further to Friedge's report: Word is that an eight-year contract for Hyman with the #oilers would come in a shade under the $5.125M AAV on Ryan Nugent-Hopkins' recent deal.

A seven-year contract for Hyman would be closer to $5.5M AAV. https://t.co/LozsslxyOF

— Chris Johnston (@reporterchris) July 22, 2021
The #LeafsForever did offer Zach Hyman an 8 year extension to remain in Toronto but ultimately the deal wasn't comparable to what he has agreed to with Edmonton.

— Andy Strickland (@andystrickland) July 22, 2021
In addition to Edmonton, where a deal seems imminent (7x$5.5M or 8x$5.125M), the Panthers — who drafted Hyman — Rangers and the Bruins made credible offers … Another team in rebuild-mode offered more, 6x$7M) … Hyman's preference: 1. Stay in Toronto … 2. Play for a contender

— Kevin McGran (@kevin_mcgran) July 22, 2021
With the trade freeze lifting after 1pm ET on Thursday, expect an official announcement of the move to occur for both clubs with the Leafs getting back a draft pick.
Love Reading About Hockey?

Subscribe to keep up-to-date with the latest and most interesting hockey news!
| | |
| --- | --- |
| | We hate spam just as much as you |