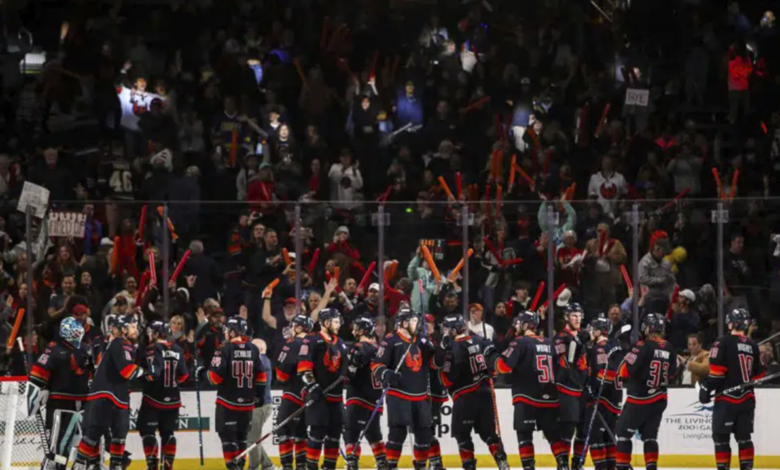 The Calder Cup Finals pitted the oldest American Hockey League team, the Hershey Bears, against the newest, the Coachella Valley Firebirds, in front of more than 10,000 spectators last Tuesday night in Game 3.
It brought the total playoff attendance for the NHL's premier development league above half a million spectators and marked the third straight game in the AHL championship series to be sold out. The nearly 90-year-old league set a new income record with that performance, which president and CEO Scott Howson believes to be 15% to 20% higher than pre-pandemic levels.
Business is finally booming for the AHL once more, three years after the playoffs were scrapped and two years after suffering through a shorter season with hardly any spectators in the stands and a few clubs choosing not to play at all.
"We've just recovered so quickly," Howson told The Associated Press this week. "It's a testament to our product. It's a testament to our markets. It's a testament to what our teams are doing and what the staffs of our teams are doing to put people in the building."
Howson, who was chosen for the position shortly before the pandemic began in February 2020 and succeeded veteran boss David Andrews that summer, gave the NHL credit for helping them get through the days of empty venues and daily viral testing. From its last full season in 2018–19, the AHL's revenue fell by 85% to 95%, and a few teams applied for federal assistance.
Some of the 32 teams, of which 21 are owned by NHL clubs and 11 are independent, still have not fully recovered from the pandemic, according to Howson, but none of the teams are in danger of folding or shutting down their operations, as was feared across all minor league sports at this time three years ago.
"There's really no weak spots," Howson said. "Some are obviously doing better than others, some markets are better than others, but we're really stable from an ownership point of view and a market point of view."
The AHL has recovered beautifully, as evidenced by the championship game between Coachella Valley and Hershey, which will continue to air on the NHL Network. In contrast to the Bears, who are a central Pennsylvania tradition, the first-year Firebirds had to promote hockey in the California desert, 120 miles east of Los Angeles.
In reality, they had to do it twice. Snowbirds constituted a sizable portion of their fan base during the season, but when they left this spring, Coachella Valley switched its marketing strategy to appeal to the locals, who have subsequently embraced the team as they embark on what may be an expansion-year championship run.
Howson claimed that Henderson Silver Knights, a team owned and run by the newly crowned Stanley Cup winner Vegas Golden Knights, and Coachella Valley, a team co-owned by the Seattle Kraken, have "raised the bar for everybody" in terms of revenue producers. Given its history, heritage, and passionate fan base, he described Hershey as a model club that the AHL would dearly love to replicate in other towns.
Given the financial difficulties caused by the epidemic and their hesitation to play in packed arenas, even for the Bears, the rebuilding process took time. Early playoff games in Hershey and Coachella Valley were not sold out, but crowds have recently re-appeared in large numbers.
"It's a big task to get back on track, but I really believe that they have," said John Walton, the Washington Capitals radio play-by-play broadcaster who spent nine years as the voice of the Hershey Bears. "You can look at what's gone on and say, 'Hey, they're finally back now.'"
The absence of playoffs in 2020 and 2021, according to Walton, who had the opportunity to broadcast three Calder Cup final games before being called up to the NHL, is a challenge for AHL teams. To get through the 2021 season and avoid losing a full year of development, players took 48% of their salary.
"The players have really committed to the game and to the AHL, and I think down the road they'll be rewarded for it," Professional Hockey Players' Association executive director Larry Landon said Thursday, referring to the next round of collective bargaining talks. "It's great to see for hockey. I think the whole sport has bounced back."
The NHL went from 30 to 32 teams in 2017, which was a difficulty and eliminated close to 50 players from the skill pool. The AHL has continued to uphold its norm, though.
"There's so many positive things going on with our league right now from a business point of view, and I think it starts with the hockey," Howson said. "The entertainment value's really high, and that translates into the business."