Chicago Blackhawks
Featured
BREAKING: The Chicago Blackhawks have announced that Stan Bowman is no longer the president of hockey operations and general manager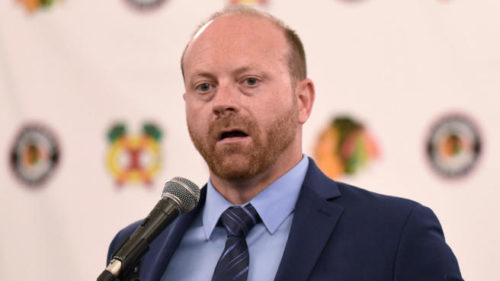 Despite Stan Bowman building a playoff-caliber team on paper, the Chicago Blackhawks are a pathetic 0-5-1 with a recent humiliating loss to the Detroit Red Wings where the United Center was full of "Let's go Red Wings!" chants. The fans are now cheering for the other team, booing the Blackhawks, and the team looks demoralized. Jeremy Colliton has lost the team and the fan base.
Stan Bowman's time with the Chicago Blackhawks is over.
The team announced their general manager and president had stepped down on Tuesday in the wake of an independent investigation into allegations that a then-assistant coach sexually assaulted two players in 2010.
Kyle Davidson will serve as interim GM.
BREAKING:

The Chicago Blackhawks have announced that Stan Bowman is no longer the president of hockey operations and general manager.

— Daniel Greenberg (@ChiSportUpdates) October 26, 2021
Bowman, 48, had been with the club for two decades and was promoted to GM in 2009. The son of Hockey Hall of Famer Scotty Bowman, the younger Bowman helped lead the Blackhawks to three Stanley Cup victories over a six-year period from 2010 to 2015. The Montreal native was promoted to president of hockey operations last December.
The investigation into the allegations began in August led by former federal prosecutor Reid Schar in conjunction with Jenner & Block LLP.
The allegations surrounded the conduct of former trainer Bradley Aldrich, who in separate lawsuits, was alleged to have committed the sexual assault of a player during the team's 2010 Stanley Cup run and, later, the sexual assault of a high school student in Michigan.
Bowman is still set to serve as the GM of the United States' entry at the 2022 Winter Olympics in Beijing in February.
More to come.