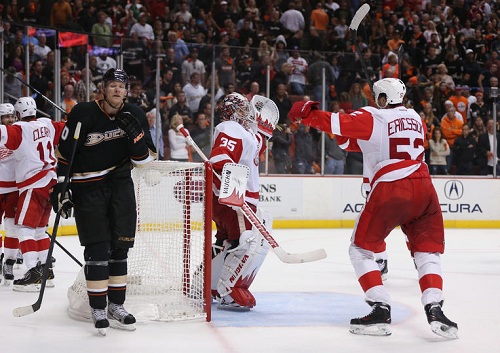 The Detroit Red Wings held off the Anaheim Ducks last night to win their Western Conference Quarterfinal Round. In a hard fought series that saw neither team win back to back games, this game was the trend-breaker.
Friday night's Game 6 in Joe Louis Arena saw Detroit blow a 3-1 lead late in the third period on two Duck goals scored less than a minute apart. It was looking to be a heartbreaking loss for the Wings, who desperately needed the win, as they faced elimination.
Sunday night saw a much better Detroit team. The entire game was dominated by the Red Wings. They controlled the puck and the flow of play. For the most part they were disciplined. Their third line was still outstanding. Pavel Datsyuk and Henrik Zetterberg were playing like Datsyuk and Zetterberg. Most importantly, goalkeeper Jimmy Howard is back to form.
Early in the series saw Howard struggling mightily. In Game 2, Howard let in three consecutive Anaheim goals to blow a 4-1 lead at the Honda Center.
Howard was outstanding this game, stopping 31 of 33 shots (.939). If you take out the second Anaheim goal, which was a redirect off of defenseman Jonathan Ericsson's skate, his save-percentage changes to .970, just to give you some perspective on how good Jimmy actually was.
Zetterberg continued his post-season heroics, scoring first and assisting on Valtteri Filppula's goal later in the game. Emerson Etem scored his third goal of the series to even things out, before Justin Abdelkader intercepted a pass on a Ducks powerplay to score himself a shorthanded breakaway goal on Jonas Hiller, as he slid the puck between the gaping five-hole that Hiller was kind enough to leave open.
Filppula's goal was the result of a blind back-pass from the boards as Zetterberg was facing the crowd in the corner. It was a veteran play by the Red Wing captain, and it helped Filppula score his first goal of the playoffs.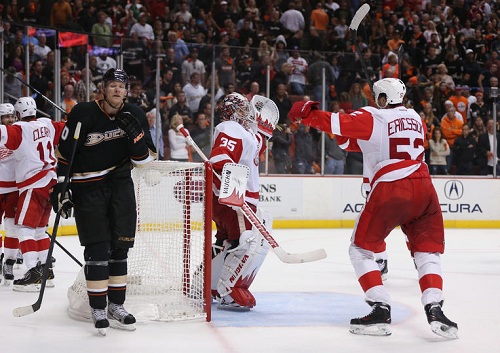 Francois Beauchemin banked Anaheim's second goal off of Ericsson's skate with 3:17 remaining in regulation. Thankfully, the team was able to regain their composure and the late pressure of the Anaheim offense, to withstand the "just-a-little-too-late" attack. Detroit hung on to win a game that really should not have been this close.
Probably the biggest difference maker in Game 7 was the number of giveaways and takeaways. Detroit had 9 takeaways (compared to Anaheim's 4). Detroit also had only 5 giveaways, whereas Anaheim had 9.
Another important factor was in the faceoff circle. Saku Koivu won just 50% of his 22 faceoffs and Ryan Getzlaf won 44% of his 25 faceoffs. On Detroit's side, Pavel Datsyuk had a good night in the circle, winning 55% of his 31 attempts. Joakim Andersson continues to excel in this category, winning 60% of his 20 faceoffs.
This game was won in the details, the little things of the game. The Red Wings did not give up the puck or make many mistakes. They pressured the point on Anaheim's powerplays, making it impossible to get clear shots to the net. They blocked a few more shots than Anaheim did.
This is why box scores never tell the whole story.
Overall Detroit won these aspects of the game, and in turn, was able to win their second elimination game of the series.
In the regular season, if not for Chicago, the Anaheim Ducks would have been the story of the season with their stellar record and the strong play of first-year NHLer Viktor Fasth. But when it comes to the playoffs, all bets are off, which is the beauty of the NHL.
Intangibles come into play. Will, determination, and patience are more important than ever.
Detroit will now face the aforementioned Chicago Blackhawks in Round 2. The Central time change will be much easier for the team as opposed to the multiple trips to California.
This will be the final time that these two original six franchises will see each other in the playoffs, except if they meet in the Stanley Cup Finals.
Chicago is facing a long layover after they disposed of the Minnesota Wild last Thursday night. Game 1 will not be until Wednesday. This greatly benefits Detroit, and could potentially be detrimental to a Blackhawks team that only lost once in the first round.
Notables:
Carlo Colaiacovo played another solid game. In a couple of desperation plays, he was able to break up the play with a diving effort.
Kyle Quincey made a few good plays, and also a few not-so-good ones that canceled out the good aspects.
Brendan Smith is still showing a lack of confidence, and often makes hurried passes.
Todd Bertuzzi played 8 minutes last night, and hasn't made much of a difference in the game. But he's on the fourth line, and just seeing him on the ice playing is a welcomed sight for his teammates and the fans.
Patrick Eaves looked slow in Game 7, making Mike Babcock's decision to sit Cory Emmerton look even more perplexing.
Mikael Samuelsson played about 4 minutes of last night's game, including 1:34 of powerplay time.
Also, I found this. Uhh…
Detroit Wins Series 4-3
Game 1 of Round 2 between the Red Wings and Blackhawks will take place Wednesday night at 8:00 ET/7:00 CT in Chicago.
Follow me on Twitter @yungspork