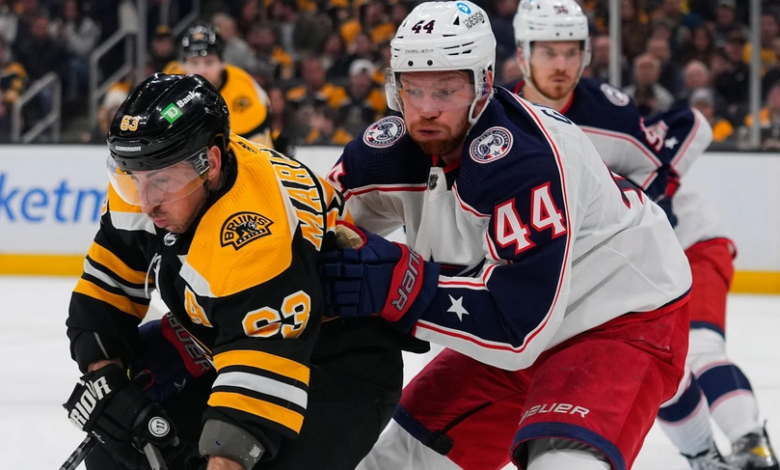 Don Sweeney has made at least one NHL trade deadline deal in each of his seven seasons as general manager of the Boston Bruins.
Is he on his way to making it eight in a row?
The Bruins are the "front-runners" to sign defenseman Vladislav Gavrikov from the Columbus Blue Jackets, according to 98.5 The Fan. Ty Anderson of The Sports Hub contributed to NBC Sports Boston's "Sports Sunday."
"It seems like they're closing in on a deal for Vladislav Gavrikov from Columbus," Anderson told host Michael Felger, as seen in the video above. " … The belief is that the Bruins have to make a trade before they can finalize this deal to bring in Vladislav Gavrikov, a 6-foot-3 left-shot defenseman who plays a lot of D-zone minutes, a lot of hard minutes.
"But it seems like the Bruins are going to win that bidding war provided they can clear some cap space and free up the money to bring him in."
The Athletic's Aaron Portzline reported over the weekend that it's "believed" the Blue Jackets "have a trade in place that requires another transaction to take place first." Portzline did not name the other team involved, but based on Anderson's information, it appears that team could be the Bruins.
Gavrikov would be a solid addition to the Bruins' blue line, adding depth and toughness. The 27-year-old has averaged more than 22 minutes per game since the start of the 2021-22 season and ranks fifth in the NHL in short-handed time on ice per game (3:31), so he could also contribute to the team's top-ranked penalty kill.
"The belief is that the Bruins have to make a trade before they can finalize this deal to bring in Vladislav Gavrikov"@_TyAnderson joins Sports Sunday to discuss the latest on the Gavrikov trade rumors pic.twitter.com/sRUc9enBAd

— NBC Sports Boston (@NBCSBoston) February 20, 2023
However, it appears that the Bruins would have to part with multiple draft picks to secure the Russian defenseman.
"They want the David Savard package," Anderson said of Columbus' asking price for Gavrikov. "That's a first round pick, a third round pick and fourth-round pick. Keeping in mind the Bruins do not have second-round picks this year or next year, you're talking about a lot of draft capital out the door."
As Anderson pointed out, the B's would need to make another trade to make room for Gavrikov. This offseason, the fourth-year veteran is also set to hit free agency after his three-year, $ 8.4 million contract ($ 2.8 million AAV) expires. However, Boston is in a win-now mode, and if Sweeney believes Gavrikov can improve the team's chances of winning the Stanley Cup, it may be worth making the deal.