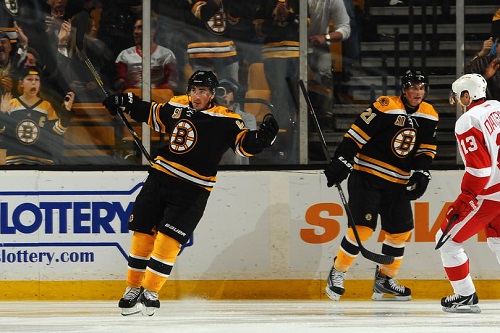 After beating the Tampa Bay Lightning and trouncing a tired Detroit Red Wings team, the Boston Bruins are hardly rolling out the welcome mat for their new division foes. Six of Boston's first eight games are against teams in the newly formed (and oddly named) Atlantic division, and that's an opportunity for the Bruins to send a message early. After going 8-1-1 in their first ten games last year, Boston's off to another hot start in 2013-14. Even though it's early (and it looks a little different than last year), the Bruins look like the team to beat in the Atlantic.
So far, for Boston fans, there's a lot to like. After struggling to establish possession against Tampa Bay on the powerplay, the Bruins' man advantage looked like a legitimate weapon against Detroit, going 2 for 4 with goals from Zdeno Chara and Torey Krug. The Bruins expect big things from their powerplay this year (so much so that some genius/idiot predicted they'd be in the top ten), and they've revamped their philosophy, putting the 6'9" Chara in front of the net and opting to have playmaker David Krejci run the point. It's already paying dividends as Chara's screen was vital to Krug's goal, and it's a nightmare for any goaltender to see Chara barreling toward the net like he did on his goal in the third period.
And there's more good news. Last year, Boston's third line (then Rich Peverley, Chris Kelly, and the revolving door of forwards Chris Bourque, Jay Pandolfo, and Kaspers Daugavins) didn't do much of anything, posting a combined -26. By contrast, this year's third line of Kelly, Reilly Smith, and Jordan Caron has already put up 3 points in two games, combing for a +/- of +4. Caron, stepping in for an injured Carl Soderberg, wouldn't crack the Bruins lineup with everyone healthy, and is doing all he can to make an impression in what might be his last opportunity in Boston. So far, the third line has not only produced on the scoreboard, but they've been buzzing around the opposition's net and that allows coach Claude Julien to roll all four forward lines.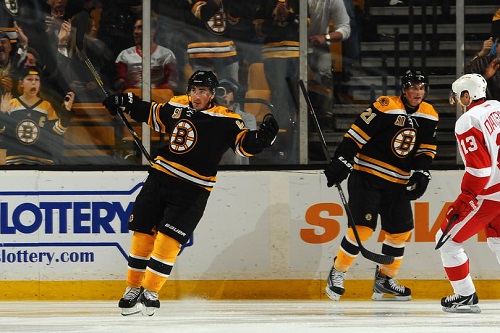 For all the good we've seen in the first two games, there are some things that look like they could use some work. Despite scoring a beautiful goal against the Red Wings, Brad Marchand hasn't look too comfortable with linemates Patrice Bergeron and Loui Eriksson. In fact, that line hasn't come together so far, and though we've seen flashes of what they can do when everyone's on the same page, it hasn't been anywhere close to consistent. That's something to keep an eye on moving forward, as the Bruins need that line to produce in order to be successful.
This Bruins team also looks a little different on defense, especially with Krug and Dougie Hamilton in the regular rotation, including some big minutes on the powerplay. In the preseason, it felt like the Bruins were looking to get some more offense from their defensive corps, and it appears like that's happening so far. Krug and Hamilton have both rushed the puck up ice when the opportunities have presented themselves, and it makes the Bruins a lot tougher to defend. While some people have feared the Krug might have been a postseason flash in the pan, he certainly looks like the real deal thus far.
After representing the Eastern Conference in last year's Stanley Cup Final, it's no secret that the Boston Bruins are playing with a target on their backs. There's no doubt that a better-rested Red Wings team will be looking for some revenge when the two teams meet next on Columbus Day. It's definitely early in the season, but so far, the Bruins are sending a message: it's their division to lose.