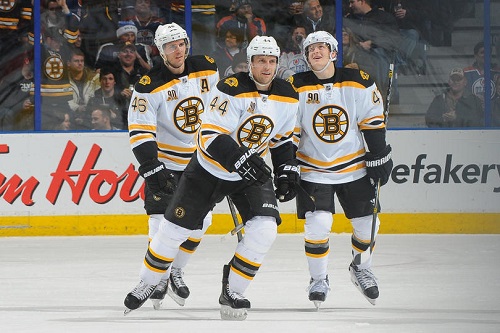 Coming off of a 6-3 win against the New York Islanders, it's hard to remember a time when the Boston Bruins defensive corps was this healthy. Whether it was Dougie Hamilton, Adam McQuaid, or even the ever-present Zdeno Chara missing a game, for a while it seemed like the Bruins couldn't play a hockey game without losing one of their defensemen. And while things seemed to have stabilized, there's still a 6'1", 210-pound hole on Boston's blue line. It's undeniable: things look very different without Dennis Seidenberg.
On December 28th, during a 5-0 Bruins victory over the Ottawa Senators, Seidenberg tore both his MCL and ACL in his right knee. That's an injury that takes 6 to 8 months (months, not weeks) to heal, and that'll end his season. So what does life post-Dennis Seidenberg look like for Boston? It hasn't exactly gotten easier. To start, the Bruins penalty kill (normally a fantastic unit and a strength of this organization) has fallen from 3rd in the league to 14th in the month since Seidenberg's been out. During that time, Boston's allowed 13 goals in 43 chances to their opponent's powerplay, which is a penalty kill percentage of just 69.7%. There's no way to sugarcoat that number either, as Boston's subpar PK has definitely cost them some games (including giving up four powerplay goals in a 5-3 loss to the Isles and three powerplay goals in a 5-2 loss to the Anaheim Ducks).
Overall, the Bruins defense is still elite (2nd in the league in goals against), but there's definitely a stark contrast between regular season intensity and playoff intensity. Currently, the Bruins are asking a lot of Torey Krug, Matt Bartkowski, and Kevan Miller, all of whom are playing their first full season in the NHL. Asking them to play top-four minutes against some of the Eastern Conference's basement dwellers is one thing, but asking someone with less than 100 games of NHL experience to hold their own against playoff level competition is a different animal entirely. It's no coincidence that the Bruins paired Seidenberg and Chara together for both of the runs to the Stanley Cup Finals, and if Boston still plans on playing games in June, someone needs to step up into that role.
Since Seidenberg isn't strapping on a pair of skates until the offseason, the Bruins are faced with a choice between looking outside their organization for an answer or hoping that one of their young guns can step up and mature on the fly. If Boston is looking to acquire a defensemen via a trade, they're looking for someone in the Seidenberg mold. That means they're in the market for a bigger defenseman who can play big minutes in big games, which narrows down their available targets to only a handful of defensemen.
At the top of Boston's wishlist is more than likely the New York Rangers' defenseman Dan Girardi, who is exactly the type of player the Bruins are looking for (but the Rangers might not be selling at the trading deadline, and even if they do, Girardi might cost too much for Boston). More realistic options include the Senators' Chris Phillips, the Philadelphia Flyers' Andrej Meszaros, or former Bruin and current Winnipeg Jet Brad Stuart. Of course, with the recent signing of Kevan Miller to a one-way NHL contract extension, the Bruins might feel that they have the organizational depth to stand pat at the trading deadline. After all, no one expected the emergence of Krug during last year's playoffs, and Boston could be hoping they find another hidden gem this year.
Meanwhile the Bruins will continue to rack up regular season wins, and there will be times when it looks like they're absolutely set on their blue line, the real test will come in the playoffs. Dennis Seidenberg would be a huge loss for any team, let alone one as defensively reliant as the Boston Bruins, and while he can't be replaced, other teams aren't going to waste any time feeling bad for the Black and Gold. Life post-Seidenberg isn't going to be easy, but if Boston wants to return to the finals, they don't have a choice: someone has to step up.