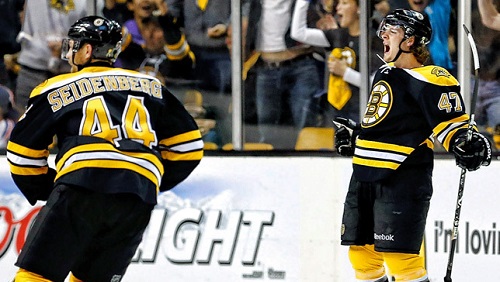 The Bruins are in first place in the East, Tuukka Rask is near the top of the league in every goaltending category, but every hockey fan in the city is talking about Boston's electric defenseman Torey Krug, and with good reason. After being rushed into the playoff lineup last year after injuries to Dennis Seidenberg and Adam McQuaid, Krug showcased his ability to find the back of the net (sinking the New York Rangers in the process), and he's started this season right where he left off in June. In 2013-14, seven goals and eight assists later, the secret's out: Torey Krug is the real deal.
Adoring fans and twitter hashtags aside (#krug4calder, #krug4sochi, and #krug4mayor are great, though I'm partial to #krUgSA myself), right now Krug is arguably the front runner for the Calder trophy. And after torching Penguins' goalie Marc-Andre Fleury in front of Team USA coach Dan Bylsma, Krug might be playing his way into a roster spot in Sochi for this year's Olympic games. Boston hasn't had a Calder winner since Andrew Raycroft (the prototypical flash in the pan) in 2003-04, but it's been even longer since the Bruins have had a defenseman who could put up points like Krug.
In fact, that offensive skillset in defensemen is pretty rare league wide. The last time the NHL saw a defender score more than 20 goals in a season was in 2010-11 with Dustin Byfuglien in Atlanta (and that was with Buff playing games at forward too). The last time a Bruins' defender scored more than twenty goals in a season was way back in 1991-92 with (Calder winner) Ray Bourque. No one's saying Torey Krug is Ray Bourque (well, someone probably is, but it isn't me), but it's worth noting that Krug's currently on track for 24 goals this year, which would put him in some pretty stellar company. Not bad for an undrafted free agent pickup.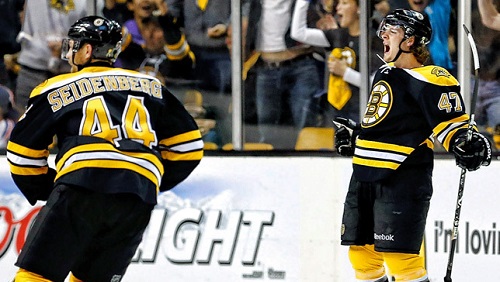 And while Krug's offensive success is working wonders for him, it's also given the Bruins an added dimension they tapped into during their run to the Stanley Cup Finals last year. During last year's 48 regular season games, Boston got a total of 22 goals from their blueliners. In 22 playoff games, when the Bruins looked better than they had all season, they got 17 goals from their defensemen. It's clear that the Bruins are much tougher to defend when they're getting offense from their defensemen, and their hot start this season is no different. Through only 24 games so far this year, Boston D-men have already contributed 17 goals (with Krug just behind Milan Lucic for the team lead in the category).
It's important to remember that Krug's still technically a rookie, and there are times when that's readily apparent. Against Carolina, Krug turned the puck over leading to a Patrick Dwyer shorthanded goal. But that's to be expected from a player who's still learning how to play the position at an NHL level. So even though it's tough not to draw a connection between Krug's torrid start and Boston's long legacy of offensively-inclined defensemen, we have to keep things in perspective. Krug's not Ray Bourque (who registered double digits in goals for a decade in Boston), and he's certainly not Bobby Orr (who once scored a ridiculous 46 goals for an eye-popping 135-point season). Bruins fans can keep dreaming, but there's plenty of reasons to be happy about Krug without all the added baggage of comparing him to Bruins past.
Lost in the gaudy offensive numbers might be the number that Krug's most proud of: for the season, he's sitting at a +6. That ties him for 9th on the team, and for a young player (Krug is just 22) learning how to play at an elite level, that's more than good enough for the Bruins. They say the best defense is a good offense. Torey Krug's doing both for Boston.