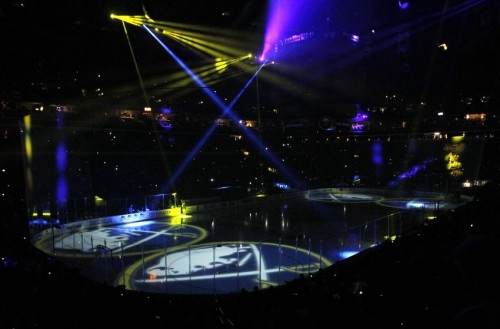 When the puck drops on the 2015-16 NHL regular season, the Buffalo Sabres will have finally turned the page on a couple long years of suffering and tanking. Brighter days are ahead for the blue and gold and with Jack Eichel in-house, the future begins now. However, the Sabres still have a LOT of work to do before they compete for the playoffs.
The good news for the Sabres is that after finishing dead last in the NHL, there isn't really another way to go besides up. With a very busy offseason from Tim Murray, the Sabres improved the level of talent on the roster. They've gone from a borderline AHL team to a team with young legit NHL talent that needs time to grow.
Their list of additions includes; Evander Kane, Jach Eichel, Zach Bogosian, Robin Lehner, David Legwand, Ryan O'Reilly, Jamie McGinn, Cody Franson and Carlo Colaiacovo.
Their list of additions is highlighted by Kane, Eichel and O'Reilly who instantly improve the Sabres top 6 forwards and make the competition up front a little tougher.
Their list of notable subtractions includes; Cody Hodgson Mikhail Grigorenko, Nikita Zadorov, Andrej Meszaros and Anders Lindback.
2 Biggest Questions;
How Will the Defence Hold Up?
The Buffalo Sabres have gone full out in rebuilding their offence and have the talent that can score goals at will. It's been clear throughout the preseason that the team can score; they have few concerns on offence overall. With Eichel, Kane, O'Rielly, Tyler Ennis, Matt Moulson and Zemgus Girgensons the offence shouldn't have too much trouble scoring night in and night out. One of their biggest concerns throughout the preseason has been suspect defence. Opposing teams are having little trouble carrying the play in the Sabres end and rushing by the blueliners.
The addition of Cody Franson helps solidify their defence, but with Nikita Zadorov out of the picture a lot of pressure falls on Rasmus Ristolainen to carry the play. Their defence is weak right now and that's something that will need to change if the team hopes to rebound from their rebuilding woes.
2. How Will Robin Lehner Fare?
Throughout the preseason it's been evident that Lehner still has a few cobwebs to get out of his system. Quite frankly, aside from his one shutout performance, he looked like a piece of swiss cheese on many nights. His ability to make stops, especially the easy ones was a major head turner and earned him a few "Bronx cheers." Sure it's only preseason and Lehner hasn't played in over a year, but this play was not what the Sabres were looking for when they traded a first-round pick for him.
Lehner is young and has all the ability to turn into a capable number-0ne starter. The Sabres don't need him to be big, but they do need him to make the routine saves he hasn't been.
The defense is behind the offensive rebuild and that's too be expected. Mark Pysysk, Zach Bogosian and Jake McCabe are still young, raw prospects with lots of time to improve. All three are ready to take on bigger roles and will only grow with their team.
Season Outlook
Jack Eichel is going to be fun to watch. He's an electrifying player that makes fans sit on the edge of their seats whenever he touches the puck. Add his excitement to the other additions on offence and this is going to be a fun team to watch. They're going to score a lot of goals and probably let in a few more than they should.
They missed the postseason by 44 points last season but they are a much better team on paper. It's going to take time to iron out defence, goaltending and chemistry before the team is ready to truly compete. They're going to be a much better and tougher team to play against than in the past two seasons
Ultimately the Sabres will fall short of the playoffs; there's too much for them left to figure out for them to make a big run this season. However, they will certainly not finish last in the East. Realistically they'll finish between 6-7th in their division and roughly 11th in the conference.