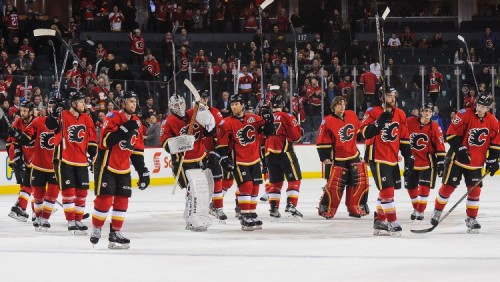 When you look around Canada today, there are many things to be sad about including: an economy in recession, the longest (and most annoying) federal election campaign taking place, summer ending, and school starting again (depending who you are this may be wonderful news to you). With all this sadness happening around us, let us look to the upcoming hockey season (training camps open September 16) for some happiness. Specifically, hockey fans should take stock in the Calgary Flames for the 2015-2016 season. Here are are five reasons why the Flames will put a smile on your face now and throughout the hockey season.
Leadership: Like any good company, it is the leaders who will ultimately determine its success. When you look at the leaders of the Flames in the front office, on the bench, and on the ice one should be filled with confidence. Like with all hockey teams, one looks to the quality of the player and person wearing the "C" when leadership is discussed. With Mark Giordano as captain, the Flames do not have to worry about leadership for the foreseeable future. On August 25, Giordano signed a six-year contract extension with the Flames reportedly worth $40.5 million. Giordano's extension ensures that he will be the leader of the upstart Flames into what is looking like a promising future for the franchise. On the ice Giordano is one of the best defensemen in the NHL (prior to his season ending injury suffered on February 25 he was leading all defensemen in scoring) and one of the best off ice leaders. As general manager, Brad Treliving, told the Flames' website upon announcing Giordano's extension, "In my opinion, if he didn't unfortunately go down with an injury, he's sitting here with a Norris Trophy…For those who are around our team, we know what he does the other 22 hours a day. He's a leader in every sense of this organization."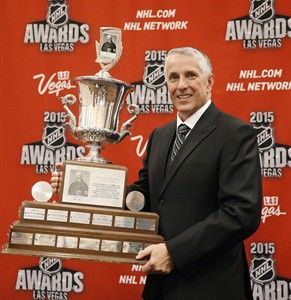 In addition to Giordano, the Flames' are also led by Bob Hartley–the reigning Jack Adams Trophy winner. Under Hartley's tenure the Flames have steadily improved each season with the 2014-2015 season seeing the team return to the playoffs for the first time since 2009. The majority of the hockey world considers the Flames 2014-2015 as a case of overachieving or catching lightning in bottle. However, if you listen to any Flames' player or more importantly Hartley discuss the season they all say they expected the success they experience. By all accounts Hartley has seemed to have evolved from his previous crusty hard-ass coaching style to becoming a "players" coach. Clearly, whatever he his style is the players have bought into his system–he has managed to galvanize not the most talented group of players in the NHL to become a self-believing, hard working (lead the League in blocked shots), and in some cases heart-stopping team (+31 third period goal differential). On top the coach and captain the job that the Flames front office (Brian Burke, Brad Treliving, Craig Conroy, and Brad Pascall) have done assembling talent and ideal role players cannot be overlooked. In sports, it is often said teams take on the personality of their coach (or leaders), well considering who is leading the Flames I would expect to watch hard-working successful teams well into the future.
Defense Corp: Second to the team's leadership group, the defense corp is the Flames' biggest asset. The impressive defensive unit includes: Mark Giordano, TJ Brodie, Kris Russell, Dennis Wideman and newcomer Dougie Hamilton. The core of the group: Giordano, Brodie and Hamilton are each signed through at least the 2019-20 season. As mentioned above, with Giordano the Flames have a potential Norris Trophy winner. Brodie, Giordano's partner, also offers a solid mix of offensive prowess (11-30-41) and defensive zone awareness (+15). Brodie also showed he could handle major minutes and defensive responsibilities in the absence of Giordano. Russel, the shot blocking machine, is a reliable veteran defender (+18) that can play on a second or third pairing while providing some offensive punch (4-30-34). Similar to Russel, Wideman provides reliable veteran depth that can handle a lot of tough minutes for a young team. Last season, he stepped up big time in the absence of Giordano setting a career high in goal, assists and points (15-41-56). Do not look for the same type of offensive production from Wideman in 2015-2016; instead, expect a steady reliable defensive game with moments of offensive flare. With the addition of Hamilton, the Flames add another top pairing defenseman to their team. Through his time in Boston, Hamilton has been developed in a sound defense structure which should carry over nicely to the Flames. Additionally, Hamilton's smooth skating and overall hockey sense make him an offensive threat and a potentially great addition to the powerplay. Based on statistics alone, this is one of the best defensive units in the NHL and as the age-old cliche states "defense wins championships."
Dynamic Duo: The Flames currently employ one of the best young, offensively gifted duos in the NHL. Sean Monahan and Johnny Gaudreau will be pacing the Flames' offense for years to come–this alone should be enough to get Flames' fans grinning non-stop. Last season, many believe that the Flames overachieved but there is no doubting the talent of these two. In 2014-2015, Jiri Hudler (31-45-76) paced the Flames offense but his career season can be solely attributed to playing with the talents of Monahan (31-31-62) and Gaudreau (24-40-64). Gaudreau's season was good enough to tie Mark Stone for the lead in rookie scoring and make him a finalist for the Calder Trophy. Now, Flames' fans are probably worried about the sophomore slump impacting Gaudreau for the 2015-2016 season; however, this writer does not take any stock in the slump. The dynamic duo played in every pressure packed situation for the Flames and delivered. Consider the lessons they learned from these situations, the leadership they receive from playing with Hudler, and their pure high-end skill the dynamic duo of the Flames will see their production rise this season. If they were a stock I would advise you to BUY BUY BUY!!!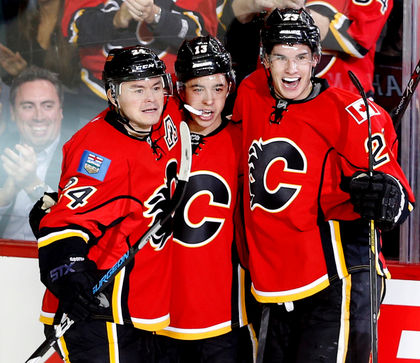 Sam Bennett: Many believe that 2015-2016 Calder Trophy race will only be a two horse race between "generational talents" Connor McDavid and Jack Eichel; however, Sam Bennett should not be overlooked. Bennett may not possess the natural elite level skill of Eichel or McDavid but he does have a full year of pro-hockey experience to draw from unlike the two generational talents. Bennett's 2014-2015 season was quashed on October 14 when he underwent surgery on a torn labrum in his left shoulder. Other than an 11 game recovery stint with the OHL's Kingston Frontenacs, Bennett spent the entire 2014-2015 season recovering in Calgary and working with Flames officials. Bennett successfully recovered from his surgery while being taught how to be a pro on an upstart team. The lessons were put on display by Bennett when he played in 11 playoff games and was a significant contributor (3-1-4) to the Flames' push to the second round. So while Eichel and McDavid will be adjusting to becoming full-time NHLers, Bennett having been already adjusted to life as a pro can continue to build on his breakout playoff performance. Considering Bennett's knack for the scoring around the net, his willingness to play hard in both ends on the ice, and the talent (on and off ice) he is surrounded by in Calgary suggesting he will be in the Calder Trophy conversation is not far-fetched.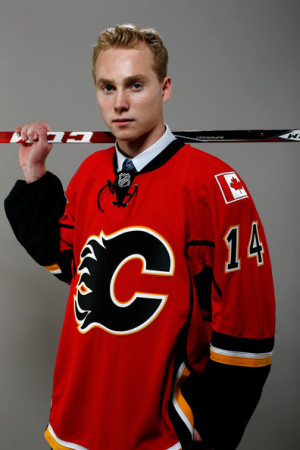 CalgaryNEXT: As if the product on the ice wasn't good enough it seems that Flames' fans could be treated to new arena in the not so distant future. In late August, a $890 million sport complex project that would house the Flames, Calgary Stampeders, and provide the community with a field house was proposed by Flames president Ken King. The ScotiaBank Saddledome is set to become the NHL's oldest rink once the Edmonton Oilers'new rink opens in 2016. This is just a proposal and there are still many issues in terms of funding that must be negotiated before a shovel hits the ground. However, this does not limit the fact that the proposal is ambitious, quite impressive, and would serve the great sport fans of Calgary admirably. It is good to see an owner wanting to take care of his city and fans. For the record, I do understand the massive amount of tax dollars that would go into a project like this (I typically disagree with this use of tax dollars) but it is nice to see an owner thinking ahead and committing to a city instead of threatening to leave without a publicly funded stadium. To learn more about the proposal I suggest checking out Justin Giovanetti's piece in The Globe and Mail.
As you can see, its reality is not all bad. Hockey season is almost here and the Flames definitely something to buy into or at least keep an eye on.