Calgary Flames
Featured
Calgary Flames Players Voice Strong Opposition to Coach Sutter's Return for Next Season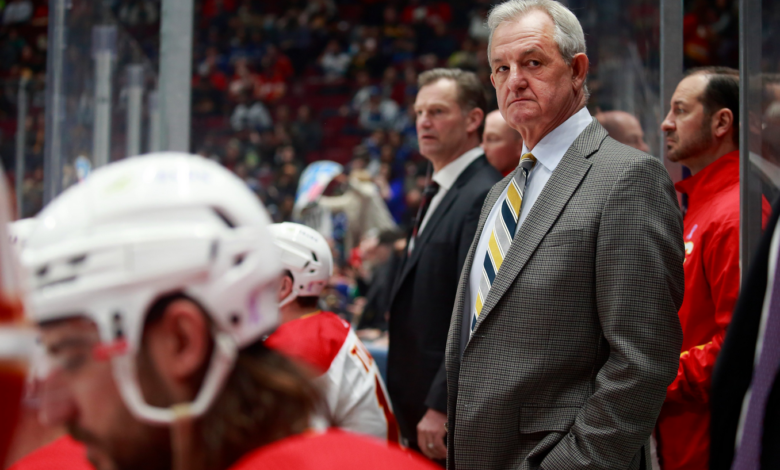 According to NHL insider Frank Seravalli, the reigning Jack Adams Award winner as the NHL's top coach is likely to find himself unemployed this summer.
Darryl Sutter, who led the Calgary Flames to an incredible season in 2021-22, appears to have pushed all the wrong buttons this season, driving his team out of a playoff spot. Seravalli claims he also alienated his team's key players and likely coached himself out of a job.
More from Seravalli on the Calgary situation:
The decision to send Nick Ritchie in on a season-deciding shootout was just the piece de resistance on a season full of head-scratching calls – from four months of Jonathan Huberdeau on the right wing to weeks of Milan Lucic in the top six. The handling of Jakob Pelletier and "What number is he?" rubbed the entire organization the wrong way. There are believed to be at least a handful of players expected to voice their disapproval at exit meetings, if they have not done so already. They'll voice them to GM Brad Treliving, who does not have a contract for next season. Could Calgary actually continue with Sutter as coach? Cowtown doesn't seem big enough for Treliving and Sutter. One could be back. Neither could be back. The only thing we know is change is coming in Calgary.

– Frank Seravalli
There's no denying Sutter's achievements. He has reached the pinnacle of his profession as a head coach… but his best coaching results date back nearly a decade, and he has consistently hampered his team with stubborn decisions all season. I believe this was his final season as a head coach in the NHL, and almost certainly his final season in the Flames organization. And, to be honest, there should be no shame in that.
Sutter has accomplished everything there is to accomplish as an NHL coach. He was one of the best coaches of his generation, but it's clear that the game is simply passing him by. It happens to all the greats at some point.