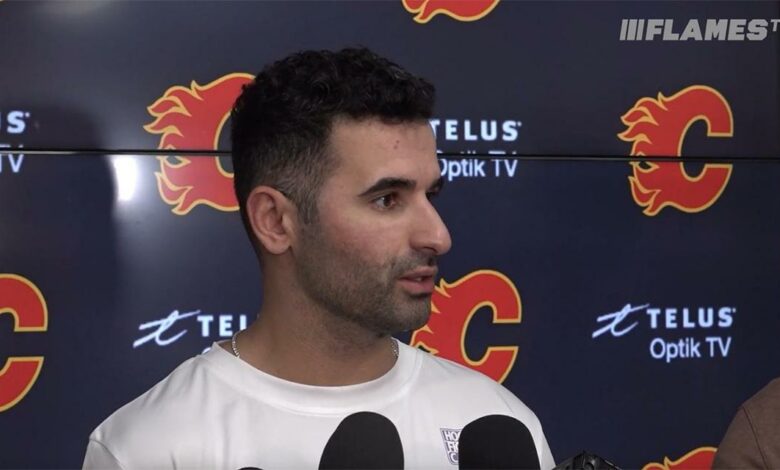 The Calgary Flames' season hasn't exactly gone according to plan; they are currently battling for their playoff life in the midst of a campaign in which prominent players have struggled on offense and in goal.
There have been a number of confrontations between players like first-year Flames forward Jonathan Huberdeau and tough, old-school bench boss Darryl Sutter. Recently, there have also reportedly been an increase in player outspokenness on the Flames. Nazem Kadri, a fellow first-year Flames forward who last year assisted the Colorado Avalanche in winning the Stanley Cup, is said to be "quite vocal" about how he feels the Flames are operated.
"Kadri gets benched. It's a weird benching to me. The one thing I'll say about Kadri is the best thing about him is… he's blunt. He's going to say what's on his mind," Sportsnet's Elliotte Friedman explained during this week's edition of his 32 Thoughts podcast.
"I've heard that Kadri's been very vocal about what he sees going on in Calgary and why the team isn't firing on all cylinders. And I think he's been very blunt about just the communication between players and the coach there. I'm betting some of that frustration boiled over in that game on Saturday night. I'm curious to see where this is all gonna go."
This past August, Kadri was the one who was persuaded to move from the Rocky Mountains to Alberta. He signed a seven-year, $49 million contract with the Flames, keeping him under contract until he turns 39.
Sutter's contract is still valid for another year, but general manager Brad Treliving's is set to expire this summer. Exactly how the Flames will go with Sutter, who guided them to a division title last season but has had multiple public disagreements with his players this year, is still unknown.