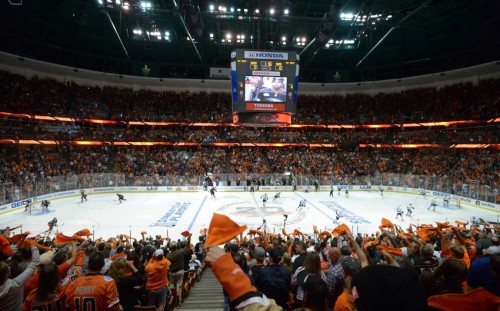 Coming off a rough postseason loss against their rivals and eventual champions, the LA Kings, the Ducks look to redeem themselves with another solid regular season campaign. Making the postseason three out of the four last seasons has seared the Ducks amongst the best of the league. But can they reverse their postseason woes in 2014-2015?
Making the playoffs isn't new to the Ducks anymore. The Western Conference is clearly the more dominate one in the NHL and Anaheim continuously proves they can hold their own and prevail against top notch hockey, but they have an Achilles Heel, and that's the playoffs. After a stellar 2013-2014 season that saw them edge out Chicago for the #1 seed of the West and placed them one point behind Boston for the President's Trophy, the Ducks simply fizzled out. Yes, they beat a squandering Dallas Stars club, but their attempt at the Kings in the second round was novice, at best.
In order to turn around their playoff luck they needed to add depth and veterans who can motivate the team to victory. They scored a huge win with the signing of Ryan Kesler, a veteran of the Vancouver Canucks who has loads of playoff and leadership experience. With 25 goals and 18 assists for a total of 43 points last season, he looks to add to the offensive powerhouse that is Getzlaf and Perry. The Ducks will now have three powerful, natural goal scorers and play creators; simply put, the chemistry they need to prevail in the playoffs and push towards that second title.
Veterans and proven talent aside, the Ducks are slowly assembling quite the arsenal of very talented young prospects and players. With the likes of Emerson Etem and Devante Smith-Pelly at Bruce Boudreau's disposal to experiment with, this mix of veteran and rookie has the possibility to produce explosive results. On an individual level both Etem and Smith-Pelly have proven themselves when it most counts, the playoffs. For example, in the 2014 playoffs Smith-Pelly led the team in goals with 5 and the year before that, Etem had an impressive playoffs with 3 goals and 2 assists. Superb stats for a pair of greenhorns.
Of course hockey doesn't come down to one man; in fact, it takes lines of men to make a good team. But with Kesler filling in that second line, young talent making strides and the Perry/ Getzlaf duo chipping away on the first line, the Ducks have a serious shot of taking home another #1 seed and possibly the Stanley Cup. Let's let the quacks ring in another awesome season!
Love Reading About Hockey?

Subscribe to keep up-to-date with the latest and most interesting hockey news!
| | |
| --- | --- |
| | We hate spam just as much as you |