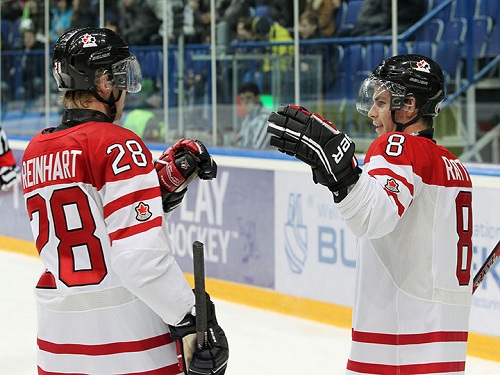 Team Canada was firing on all cylinders in their first game of the 2013 World Junior Tournament as they crushed Team Germany 9-3. Germany is returning to the tournament after getting relegated in 2011 and wasn't expected to give up much of a fight, but Canada still played their best game as a team so far and opened the tournament strong. Ryan Nugent-Hopkins played like the NHL star that he is, picking up five points to lead the way for Canada. His whole line played to their full potential, with Jonathan Huberdeau adding three points and Mark Schiefele scoring two goals. Malcolm Subban was criticized on Twitter again, but he held his own and made some huge saves in the third period. Read on for my period breakdown, with thoughts on Canada's first game of the tournament.
First Period: One big issue for Canada after the pre-tournament was discipline and taking to many penalties. But at the start of this game, it was Germany that got into penalty trouble and Canada opened the scoring on their second of four opportunities in the period. Xavier Oullet walked in from the point and fired a shot into the goal less than four minutes into the game. Morgan Rielly and Hopkins got the assists on the play that gave Canada the lead. Before the game, Canada Coach Steve Spott said he didn't want the team to take more than four penalties in the game. In the first, they took two; one for charging and one for kneeing. The charging one was a bad call and the knee was ugly, but the result of a missed hit and nothing serious. Between the many powerplays, Canada scored a second time. This was Hopkins goal, who received of a perfect pass from Huberdeau and made no mistake putting it in far side. It looked like Canada was going to run away with the game early, but Germany wouldn't give up and had a few shifts of solid forecheck pressure in the Canada zone. That paid off late in the period, while JC Lipon was serving his kneeing penalty. Tobias Rieder (who plays for Spott on the Kitchner Rangers in the OHL) converted on a one-time shot, beating Subban clean and cutting Canada's lead to one. Rieder is one of six CHL players on the German team and made no mistake on the goal. The period ended with a 2-1 score and Canada had not yet pulled away the way that was expected from them.
Second Period: This is the period in which Canada pulled away from Germany for good, led by Hopkins and Schiefele. They started the period off with two quick goals. After an early penalty by Huberdeau, Schiefele got his first goal, shorthanded, on a nice 2-on-1 pass from Hopkins. Then 2-minutes later, Huberdeau scored with another assist from Hopkins and Dougie Hamilton. The play was offside, but the linesman didn't see it and allowed Canada to complete the rush to score. The next two goals came from the second line, with Ryan Strome, Ty Rattie and Jonathan Drouin playing just as good as the top three. First, Rattie picked up the puck all alone in front and shoved it into the net after Anthony Camara pushed the puck out from behind the net. And then Strome scored off a great pass from Drouin behind the net right onto his stick. Now it was 6-1 for Canada and they were fully in control.
But Germany refused to quit and they capitalized on some sloppy play by Canada. After Scott Harrington was caught pinching, the Germans got a two-on-one with Leon Draisatl (the 16-year old player of the game for Germany) sending a perfect pass to Leonhard Pfoderl who deked Subban and beat him high glove. Less than 2-minutes later, Mark McNeil (on Canada) passed the puck right on the stick of Nickolas Latta from the Sarnia Sting who wasted no time beating Subban high glove. Suddenly Germany had life and although they were still down 6-3, Canada looked out of sorts for a little bit. But Schiefele broke through the pressure Germany was bringing before the period ended to score his second goal. The goal included Huberdeau's third point and Hopkin's fifth and the passing was just further proof that all three players should be in the NHL. The period ended with Canada back in control and with a 7-3 lead.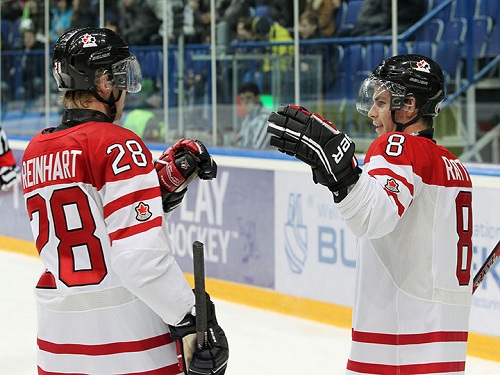 Third Period: With a big lead, Canada went out in the third looking to defend their lead without giving up more goals or taking more penalties. They did just that, while also scoring two goals to complete the scoring. The first goal came about five minutes in and came from the second line again. Jonathan Drouin collected a pass from Scott Harrington, then moved around the goalies poke-check before sliding the puck into the net. Drouin continues to show why he is a top draft prospect and will be an important forward in Canada's top six. After lots of back and forth play, including two huge pad saves by Subban, Canada got their last goal with just under three minutes to play in the game. This one came from defenceman Tyler Wotherspoon, who came in on the rush and one-timed a perfect pass from Ryan Strome. Wotherspoon only has three goals in the WHL for Portland, but looked like a sniper on the goal. Germany put up a good fight, and they should not be ashamed by their performance. But Canada was just to deep and skilled to be contained and they rolled over Germany without many problems. They need to evaluate the breakdowns that occurred in the second, but should be very happy with their offensive production. It was a great start of the tournament for Canada.
Canada's next game is Friday, December 28, at 4 am EST against Slovakia.