The Montreal Canadiens were one of the busiest teams as the NHL free agency period opened Tuesday, with GM Marc Bergevin adding depth and clearing cap space for the future. By 4 p.m., the team brought in PA Parenteau, Tom Gilbert and Manny Malholtra, lost Daniel Briere, Brian Gionta, Thomas Vanek and Josh Gorges, and kept Mike Weaver. All these changes are designed to clear the way for PK Subban and his expected $8 million plus contract, but also show Bergevin doesn't mind tinkering with his team that went to the third round of the playoffs.
The Canadiens got things rolling on Monday with a trade with the Colorado Avalanche, sending Briere to Colorado for Parenteau and a fifth round pick. Their cap hits are identical ($4 million) but Parenteau has an extra year on his deal. However, Parenteau is younger and has more offensive upside than Briere does. At 31-years-old, the right-winger will be able to slot into the top six forwards and score some goals.
The Hull Que. native is really excited to play for the team he watched growing up and says he fits in with the Montreal style of play.
"I'm realizing a childhood dream, and I'm happy to have turned the page with the Avalanche. I'm excited to start this new chapter with the Canadiens," said Parenteau. "I'm going to play my game [in Montreal]. I'm going to try to bring a lot of intensity. I'm going to make good decisions with the puck, make good plays, and score goals."
Last year, he only played 55 games after suffering some MLC injuries on both his knees, but he still managed to score 14 goals and 33 points. He says he's healthy and if he can find chemistry with David Desharnais or Tomas Plekanec, the Canadiens will have upgraded their forwards nicely.
Minutes after the bell rang for the start of the free-agent frenzy, Montreal made the first signing of the day, landing Malholtra. The 34-year-old was not brought in to score goals, but to win faceoffs on the team's bottom line and penalty kill. In 933 games, Malholtra has 115 goals and 291 points.
But last season, after a miraculous comeback from an eye injury that looked career ending, Malholtra returned with the Carolina Hurricanes where he finished second in the league in faceoff percentage (59.4 per cent). That is an area that Montreal needed to upgrade in after Lars Eller led the team with 53 per cent efficiency and Tomas Plekanec finished at 48 per cent.
"At this stage in my career, the most important thing is winning," Malholtra said. "You look at the season the Canadiens had last year and the way they've been growing as a team… to be able to be a part of something like that and try to take the next step with a team is something that means a lot to me."
"We are trying to move forward, we're trying to get better," Bergevin said. "Sometimes you make decisions based on hockey… and bringing in a centre who's good on faceoffs and brings leadership [is a hockey move]."
Restricted free agent Ryan White was not offered a contract by Montreal to make room for Malholtra.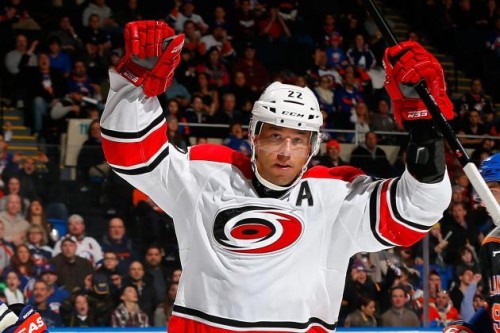 Montreal then added a defenceman with the signing of Gilbert to a two-year, $5.4 million contract. Most recently of the Florida Panthers, Gilbert brings another big, strong body to the backend. What makes Gilbert an upgrade over Douglas Murray, who won't be back with the Canadiens, is he also has an offensive flare, capable of making a good first pass and filling in on the powerplay. Essentially, an all-around player.
"I'm looking for what everyone is looking for: a chance at the Cup," Gilbert said. "Everyone is looking for teams that are going in that direction and Montreal is a great place to be. It's the Mecca of hockey."
Gilbert was given rave reviews by Weaver, who played with him in Florida and also re-signed with Montreal on Tuesday.
"[Weaver] sent me a text about 30 minutes ago asking why I'm chasing him around and following him wherever he goes," Gilbert said.
"[Tom Gilbert] is one of the nicest guys I know," Weaver said. "He's going to fit in well with the team. Hopefully he's going to cut his hair."
Weaver came to the Habs at the trade deadline and was an important player during their playoff run. The 35-year-old isn't know for his offensive play, besides this big goal he scored against Boston.
What Weaver brings is strong penalty killing and shot blocking, matching up against other teams top lines. And at $1.75 million, he's a bargain buy for the Canadiens.
"I'm happy to be part of the Montreal Canadiens again and for a full year," he said. I'm happy to be in a hockey city."
With all of the additions made by Montreal in free agency, some players had to leave and Montreal lost three key ones. Gorges and Gionta went to the Buffalo Sabres, while Vanek left for the Minnesota Wild.
Vanek and Gionta leaving were not much of a surprise as both cost too much. Vanek has a summer home in St. Paul but his three-year, $19 million deal was probably lower than he was expecting. Gionta is from Rochester, NY and the Sabres needed to spend to reach the cap minimum, hence his three-year, $12.75 million deal. Both will be missed by Montreal but easily replaced by Parenteau and other younger players.
The Gorges move was a little more surprising, but necessary in the long run. With four-years left at $3.9 million, the soon to be 30-year-old was going to be moved eventually. Gilbert and Weaver will fill in for his defensive play while the extra cap-space can be spent else where, namely PK Subban.
"Josh and Gio were great for our team, but it's time to give our young players a bigger role," Bergevin said.
It's safe to say Montreal got all of its depth moves out of the way in the first day so that they can focus on Subban. As has been well documented, Subban will command as much money as possible and these moves give Montreal a chance to give him that. With over $15 million in cap space now (figures from Cap Geek.com) Subban can get what he's owed and the team is safe in case an offer sheet is made.
It's hard to say if Montreal got better because of these moves and the expectations are higher than ever after the team's appearance in the conference finals. Keeping Subban happy is the number one priority and Bergevin seems to have positioned his team to do that.