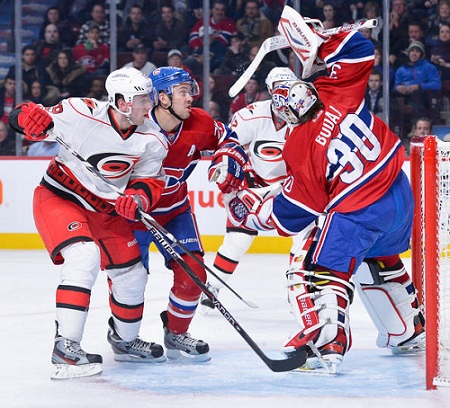 Offense was at a premium last night as the Hurricanes and the Canadiens met at the Bell Centre in a matchup of two teams who have had early season success. Both teams had key players out or not at 100%. The Canadiens were unable to start goaltender Carey Price due to flu-like symptoms, and defenseman PK Subban also had the flu, but played through the illness. The Hurricanes had several players out to injury, including defensemen Tim Gleason and Joni Pitkanen, and forwards Tim Brent and Jeff Skinner. The game was a goaltender battle for the first two periods as Cam Ward and Peter Budaj stood on their head for much of the game. Montreal was able to break through first however, and added two more third period goals to defeat the Hurricanes 3-0.
Budaj shut out the high-flying Hurricanes offense, the first shutout against the Canes this season. Budaj made just 19 saves, but looked sharp for the majority of the game, including a furious flurry at the end of the second period that kept the game at a scoreless tie.
Brandon Prust opened the scoring for the game at 2:06 in the third period, as he crashed the net and found the puck on his stick. The initial pushback from the Canes was immediate, but Carolina couldn't solve the defense and Budaj. Mid-way through the third period, Tomas Plekanec took a hard slap shot that caught Ward high on the pads. Ward was stung on the shot, and the puck rolled over a hunched Ward and trickled into the net for the 2-0 lead. Just 18 seconds later, Max Pacioretty threw a puck on net from the blue line and the puck took a bounce over an unsuspecting Ward and went into the back of the net. Both goals were should have been saved by Ward, but the offense didn't give him any support.
The positive for the Canes came on the penalty kill, as they were able to kill off all 4 Montreal power plays in the game. Defensemen Justin Faulk is turning into a budding superstar on the blue line. He logged a career high 30:33 of ice time, and played in both power play and penalty kill situations.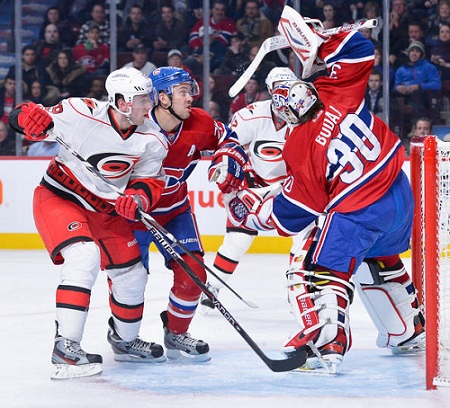 "We're missing some key guys, yeah, but you're going to have injuries and everyone's going to go through it," Carolina coach Kirk Muller said. "We didn't have that same killer instinct. We didn't have that shooting mentality and we weren't attacking like we normally do. We just didn't have our best game tonight."
The Canes don't play again until Thursday, as they come back to Raleigh to take on the division foe Winnipeg Jets. This will be the first matchup against the artists formerly known as the Thrashers, and the Canes will need a better effort than they put up against Montreal if they want the two points.