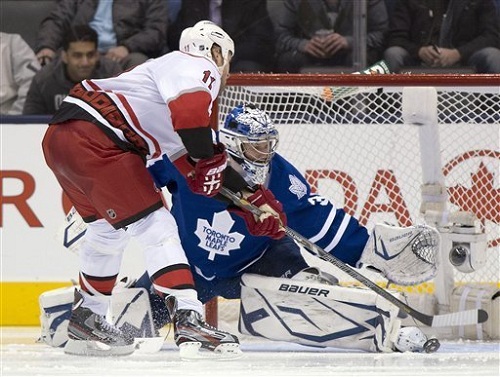 Eric Staal is off to a blazing start for the Carolina Hurricanes. Going into last night's matchup versus the Toronto Maple Leafs, Staal had 6 goals in 7 games, and he added to that total last night with the eventual game winner in the second period. Little brother Jordan Staal got his first goal in a Hurricanes sweater to tie the game at 1 in the second, and the Hurricanes added two more goals in the third to take a decisive 4-1 decision over the Leafs.
Cam Ward was sensational in net for the Hurricanes. Ward had 42 saves and kept the game close in a first period that could have easily ended 2,3, or 4 to nothing in favor of the Leafs. Acrobatic saves were commonplace for Ward on this night, who finally looks like he may be returning to form after having to shake off some early season rust. The defensive game wasn't as clean in front of Ward, and this was definitely a game that he stole for the Hurricanes on the road.
The Hurricanes' power play was also very good on the night. With the man advantage, the Hurricanes scored 2 goals in 4 attempts and the puck movement on the goals was a thing of beauty. Eric Staal's goal came on the man advantage, and he attempted a centering pass to defenseman Justin Faulk which careened off of a defender and into the net. Faulk also had a PP goal 43 seconds into the third on a 5-on-3. Patrick Dwyer scored his third goal on the season, and his first since being moved to the second line alongside J. Staal and Jeff Skinner. Skinner had 3 assists on the night.
Leafs forward Tyler Bozak appeared to tie the game late in the second half, but the goal was determined to have been illegally kicked in. Much to the chagrin of the Toronto faithful, the Leafs immediately took two back-to-back penalties, which led to the 5-on-3 goal to start the third. Toronto played an excellent first period, as they were flying left and right to loose pucks and got scoring chance after scoring chance. The tides turned in the second though, as Carolina outshot the Leafs 20-5 in the frame.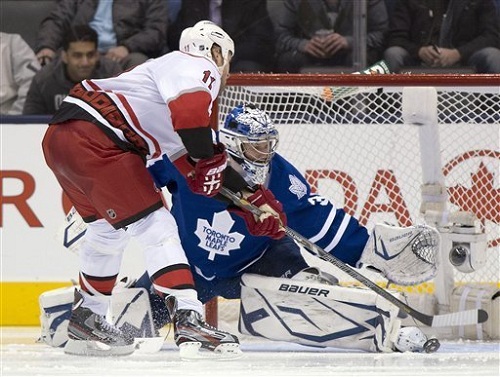 Carolina (4-4-0) plays their third game of a 6-game road trip Thursday night in Ottawa. The game is a rematch of last Friday's matchup in Raleigh, where Dan Ellis and the Hurricanes' defense shut the Senators out in a 1-0 win.