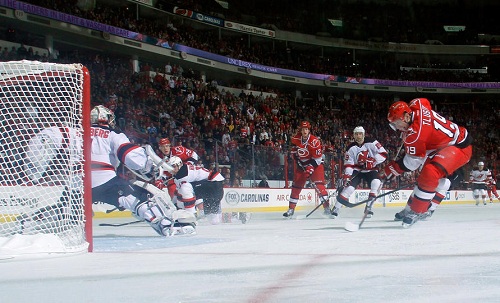 Saturday night's game in Raleigh saw a battle of two backup goaltenders, as regular starters Cam Ward and Marty Brodeur were both on the shelf due to injury. Dan Ellis and Johan Hedberg minded both nets as two teams who are playing for playoff spots in the Eastern conference met. The Carolina Hurricanes played a complete game from the opening faceoff and dominated the New Jersey Devils, doubling the Devils up by a score of 6-3.
Alexander Semin continued his impressive season in a Hurricanes sweater, as he got a nice pass from defenseman Joe Corvo on the power play and made a slick move on the backhand to open scoring at the 12 minute mark of the opening period. Jay Harrison followed a shot by Jeff Skinner just 29 seconds later to open up a 2-0 lead and the Hurricanes were off and running. Ilya Kovalchuk scored on a shorthanded breakaway with five minutes remaining in the period to cut the lead to one and that's how the first period ended.
The second period was all Hurricanes, as Jiri Tlusty took a slick pass from Semin on a partial 2-on-1 to increase the Canes' lead just five minutes in. New call-up Chris Terry, who played in the first NHL game of his career Saturday night, scored on his first ever shot on goal as he found the back of the net via Hedberg's five hole, and the Canes had a 4-1 lead halfway through. Jeff Skinner scored just seconds after ringing the post with three minutes remaining in the frame to give the Canes a 5-1 lead to end the period.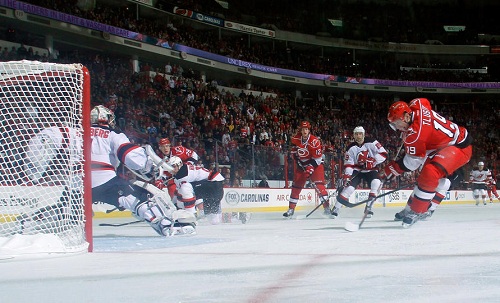 The Devils came out swinging in the final frame, as Kovalchuk and Patrik Elias scored two quick goals to cut the lead to 5-3. With an empty net, Tlusty added his second of the night and the Canes ended the game at 6-3.
Ellis made 31 saves on the night and played a solid game in his first action since relieving Cam Ward after the injury that will keep him out for the remainder of the season. The Canes increased their Southeast division lead with a win over a good team, and look to keep building on that lead next week, as they play the red-hot Capitals twice in three nights.