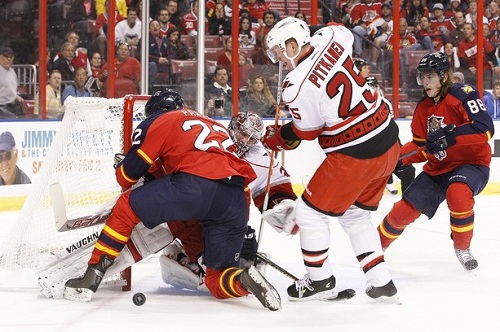 The 2013 season for the Carolina Hurricanes started off about as poorly as it could have. The Canes opened the season in Sunrise, FL to take on the defending Southeast champions, and the Panthers came out of the gates swinging.
Florida opened the scoring early as Jonathan Huberdeau scored his first career NHL goal just 3 minutes into the game. Defensman Brian Campbell added two powerplay goals and Scotty Upshall scored again with 2 minutes remaining in the opening period to give the Panthers a 4-0 lead at the break. The period was ugly for the Hurricanes, as they failed to get any offensive pressure on Florida goaltender Jose Theodore, who was solid in goal all night. On the other side of the rink, goaltender Cam Ward struggled to see the puck early, as the Canes conceded 3 powerplay goals and an even strength goal in 20 minutes. Ward allowed 4 goals on just 12 shots, and was pulled for backup veteran goaltender Dan Ellis, who played in Charlotte during the lockout.
The Hurricanes settled down and played much better for the remaining two periods after giving up another goal to Florida. Alex Kovalev banked a shot off of Ellis from behind the goal just 5 minutes into the second and the rout was on. The lone goal for Carolina came from 4th line grinder Patrick Dwyer, as he redirected a slap pass from defender Joni Pitkanen straight into the net. The Hurricanes showed life after the goal was scored, but were unable to solve Theodore all night, who finished with 41 saves on 42 shots.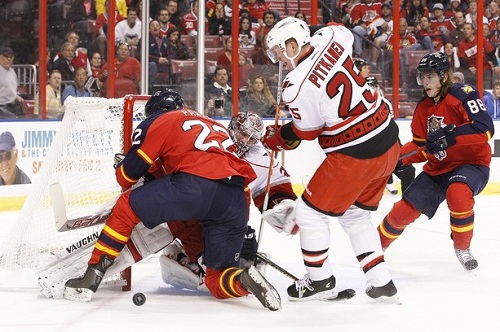 The 4th line was the only bright spot for the Hurricanes. They accounted for the only goal scored and had the most offensive pressure all night. The powerplay, which featured some of Carolina's biggest names, was stymied by Theodore and the Panthers. The Hurricanes were 0-6 with the man advantage, whereas Florida scored 3 powerplay goals and looked dominant with the man advantage.
The Hurricanes look to bounce back in their home opener against Tampa Bay on Tuesday night, whom beat the Washington Capitals in their opener 6-3. The Hurricanes started the season off poorly, but the core is there and given some time to gel, they will be a dangerous team on the offensive side of the puck.