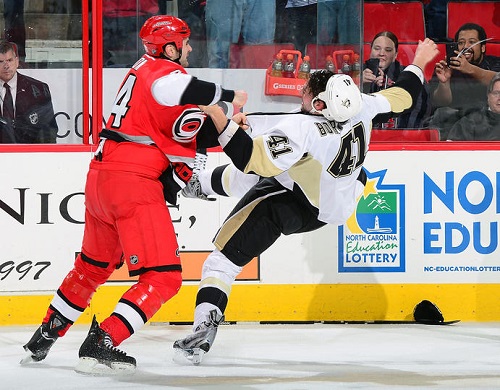 It's amazing what happens when you have a roster full of NHL players. With the return of four regulars to the Hurricanes' lineup, the Canes were able to play a complete game against one of the top teams in the Eastern Conference in the Penguins. Jeff Skinner, Tim Gleason, Tim Brent, and Jamie McBain all made their return to the lineup, and the Hurricanes played better than they have since they were bitten by the injury bug.
In a game that saw the visiting Penguins open scoring in the first period, the Canes stormed back and controlled play for the majority of the game, scoring four unanswered goals to get a definitive victory over a Malkin-less Penguins team.
Chris Kunitz took a pass across the middle from Sidney Crosby and one-timed it past Cam Ward for the opening goal of the game. Although the Canes carried play for much of the first period, they found themselves in a familiar spot, down one in the opening frame. Life was sparked into the canes with just 25 seconds remaining though, as Alexander Semin threw a shot at Marc-Andre Fleury which was deflected in by Eric Staal for his team-leading 10th goal of the season.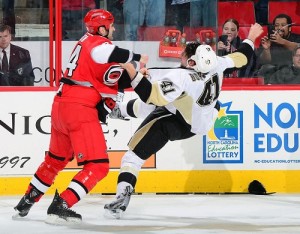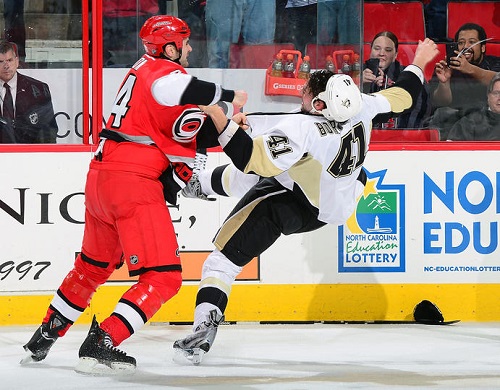 Four minutes into the second period, Eric Staal made a great power move behind the net and found a waiting Jiri Tlusty in front, who one-timed it home past Fleury to give the Hurricanes a lead that they wouldn't relinquish. Just a minute and a half later, Patrick Dwyer found himself behind the net and he centered a pass to a cutting (and healthy) Skinner who placed a shot top-shelf for the 3-1 lead. The dagger came with just 11 seconds remaining in the second period when Semin found a waiting Tlusty again in front of the net, who one-timed it home for his 9th goal of the season.
The game would end4-1 despite the fact that the Pens decided to pull Fleury down by three goals. The only negative for the Canes on the night was their power play, which went 0-5. Ward was great all night, making 26 saves. The return of key players to the lineup had immediate results and the team played a complete team game for the dominating win. This kind of effort was welcomed by the home crowd after watching the dismal performance in DC in the previous game against the Caps.
The Canes stay home to take on the Panthers on Saturday, as they look for their first win over a divisional opponent. The Canes currently sit atop the Southeast division with 21 points, and look to extend their lead with solid team play.