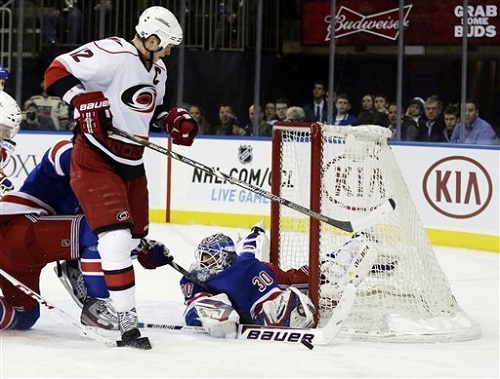 In their only trip of the season to Madison Square Garden, the game between the Carolina Hurricanes and the New York Rangers turned into a goaltending battle. Dan Ellis and Henrik Lundqvist were spectacular all night, making 35 and 29 saves respectively, and both kept their teams in the game until the very end. In the Hurricanes' first shootout of the season, they failed to score on both of their first shots, and the Rangers earned the extra point through the skills competition by a score of 2-1.
The game was tightly contested throughout with several penalties called. Neither team could get anything going on the power play, so five-on-five had to get it done. With less than a minute remaining in the first period, Eric Staal took a beautiful slap pass diagonally across the ice and one-timed it past Lundqvist for the 1-0 lead. The lead would hold up until mid-way through the second, when Derek Stepan had an empty net to shoot into as Pitkanen shoved a Ranger into Ellis to take him out of the crease. The tie would stand until the end of regulation despite several chances from both sides, mostly New York's. Ellis was fantastic in the third and kept the game alive in overtime despite almost constant pressure from the Rangers.
"We played a very strong first period but you saw them come out and match our intensity in the second," Ellis said. "They outworked us. This has happened a couple of times where we come out with a good start and then get off our game plan. We've got to learn from it. It's starting to cost us."
Jiri Tlusty and Alex Semin both missed in the shootout, and Rick Nash and JT Miller both converted for New York to give them the extra point.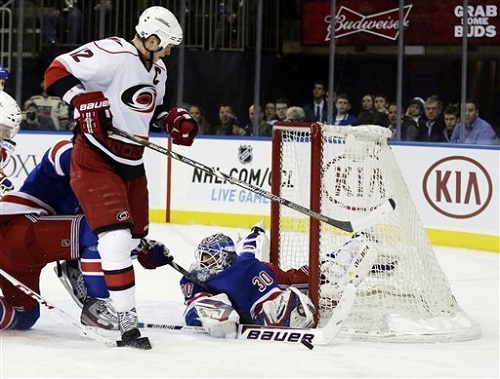 The point earned for Carolina was enough to tie them in points with Winnipeg at 32, but the Hurricanes have the lead by virtue of games played. After dropping two straight to Washington and Tampa Bay, the Hurricanes were glad to see the point in the standings. However, the extra point was there to be had and every single point will be crucial down the stretch in a shortened season.
The Canes are back in action tonight at home versus the Panthers, another game in which they need to take both points home from a division rival. The Canes should capitalize on playing a bottom feeder in Florida. The power play has to get going for the team in order for them to be successful as well.