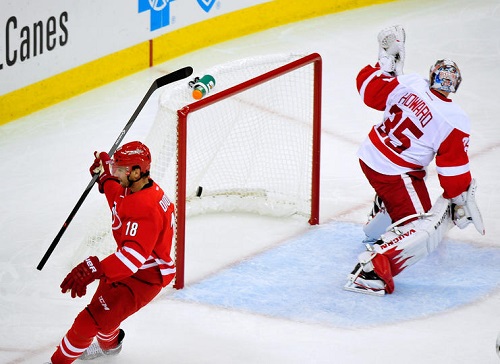 After an offseason of retooling the blue line and adding depth to the forward position, the Carolina Hurricanes finally kicked off the 2013-14 season in Raleigh against the daunted Detroit Red Wings Friday night in front of a sold out crowd at PNC arena. The Hurricanes were 16.4 seconds away from securing a victory when Detroit's Henrik Zetterberg knotted the game at two during a mad scramble in front of netminder Cam Ward. Then, at 3:13 of the overtime period, new Red Wing Stephen Weiss scored on a rebound to give Detroit the 3-2 victory.
The Hurricanes started the game off very defensively sound. The additions of Ron Hainsey and Andrej Sekera proved to be very solid moves early on, as both players played a very good game in front of Ward. Youngster Justin Faulk and rookie Ryan Murphy also had good games for Carolina, but the lack of scoring from the Canes' big names hurt them in the long run.
Camp try-out and recent signee Radek Dvorak opened scoring for the Hurricanes with seven minutes left in the first period as he won a race to the front of the net and poked a loose puck over Detroit goaltender Jimmy Howard for the lead. Then, with two minutes remaining in the second period, new Hurricane Nathan Gerbe potted a rebound in front of Howard on the power play and the Canes carried a two-goal lead into the second intermission.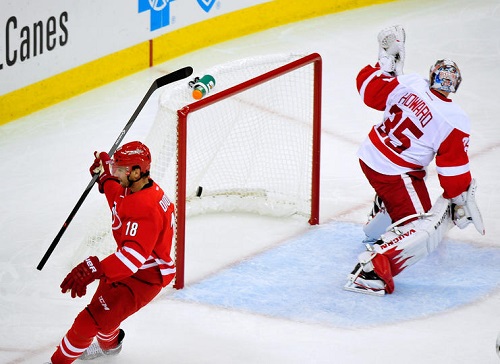 Detroit would respond quickly as Justin Abdelkader scored for the Wings just 42 seconds into the opening period. After a tightly played final period, it looked as though Carolina would come away with the win, until Zetterberg scored through traffic to tie the game.
Opening nights for the Hurricanes have been historically bad for Canes fans. The effort last night was there, however, and the team managed to secure a point in the standings against what's going to be one of the best teams in the National Hockey League. However, in this tough Metropolitan Division, the Canes must get all the points in the standings they can if they hope to make the post season. With a game Sunday night against the Flyers, the Canes must regroup and the big names have to score in order for the Canes to get a win.