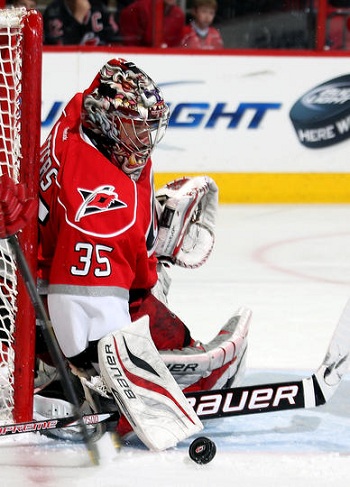 The Carolina Hurricanes found themselves in the win column for the first time since a 3-1 win in Winnipeg on March 30th. Before that, the team hadn't received two points since March 12th. Going two weeks between wins has been the source of the Canes' downward spiral in the standings, but the team put aside their most recent seven game skid and played a strong game against the Bruins Saturday night.
Both teams came out of the gates with something to prove. A few chippy battles turned into three first period fights as both teams tried to liven up their respective benches. Boston opened the scoring when Milan Lucic got his body in front of goaltender Justin Peters and deflected the puck in. Jeff Skinner potted his second goal in as many games off a rebound to tie the game at one going into the first intermission.
Jiri Tlusty scored his career high 18th goal of the season on a pass from Eric Staal to give the Canes the lead with five minutes remaining in the second, but Tyler Seguin answered right back with a breakaway goal of his own just three minutes later.
The third was all Canes, as Joe Corvo hit a one-timer from the point for the team's second power play goal to take the lead and Tlusty added an empty netter for good measure to ice the 4-2 decision for Carolina.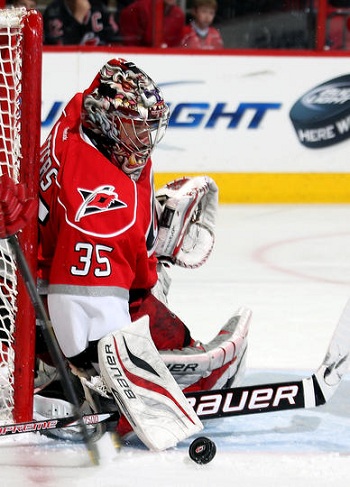 There were several key contributing factors to finally breaking the skid. Justin Peters was solid in net all night for the Canes, and made huge saves, including one at point blank range with his glove on Jaromir Jagr. Good goaltending has been incredibly hard to come by since Cam Ward went down with an injury, but the Canes got it on this night. Another factor was the power play. The Canes have struggled with the man advantage all season long, and going up against the league's best penalty kill didn't bode well. However, the Canes were able to score twice on the power play, once to tie the game at one, and once to take the 3-2 lead.
Although the Canes haven't been mathematically eliminated from playoff contention, it would be nothing short of a miracle if Carolina played in games past April. However, the team continues to battle night in and night out, and have come up with some good performances against good teams down the stretch. The role of spoiler might be all the Cane have left to play for, but one thing's for sure: they aren't going to quit on the season.