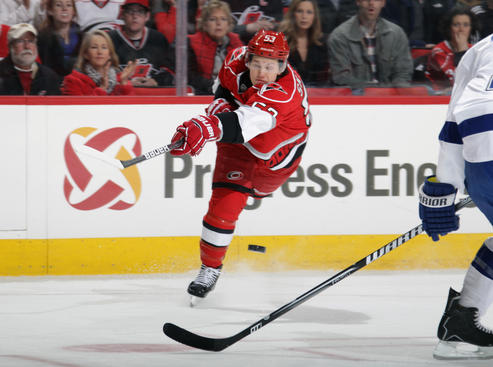 The Carolina Hurricanes kicked off their home schedule in front of a sold out crowd at PNC Arena in Raleigh last night. The crowd was vibrant, the festivities were in full effect, and the excitement in the air was palpable. All the Hurricanes had to do was give a better showing than Saturday night in Florida and the team could come away with their first points of the season. It was not to be however, as the Tampa Bay Lightning took to the ice in their 3rd game in 4 nights, played a solid 60 minutes of hockey, and came away with a convincing 4-1 win.
Goals from Tom Pyatt, Cory Conacher, Keith Aulie, and Ryan Malone put the Lightning in the winner's column for the second time this season. The lone goal scored for the Hurricanes was from youngster Jeff Skinner on a powerplay, which looked much better from their previous game against the Panthers. Vinny Lecavalier had 2 assists and helped his team over what looked to be a slow, methodical Carolina squad for most of the night, despite the atmosphere in the arena.
Backup goaltender Matthieu Garon looked stellar in goal for Tampa, making 35 saves for the win. Cam Ward struggled early and often though, and he looked to be fighting the puck for most of the first period. The lack of offensive firepower for this Hurricanes team is troublesome, as the lines don't look to be quite meshing early on. The players only got a week of training camp to build bonds and strengthen on-ice relationships, but the slow start is cause for concern for anyone who predicted the Hurricanes to take the Southeast Division crown in this truncated season.
The bright spot on the ice was Skinner, as he was able to finally open up skating lanes and get several good shots, including his second period tally. "Skins wasn't happy with his first game. I thought he worked hard tonight," Head Coach Kirk Muller said. "He was very involved, probably one of our best forwards. When he works like that … he can be a game-breaker."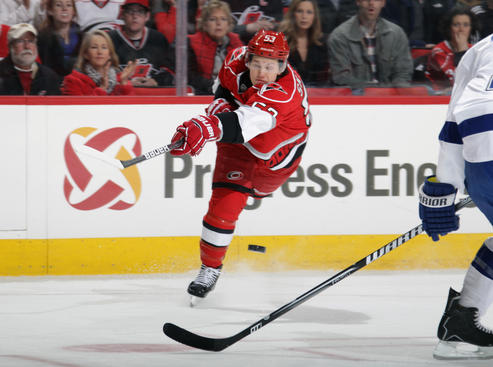 Starting 0-2 in a 48 game season isn't ideal, but there are just two games down with plenty of hockey left. Still, with the Canes averaging a single goal per game thus far, a spark needs to be lit somewhere in order to get the boys rolling. They take on the Buffalo Sabres Thursday night for the second consecutive home game, and the hope is that the crowd can turn the team's fortunes around.