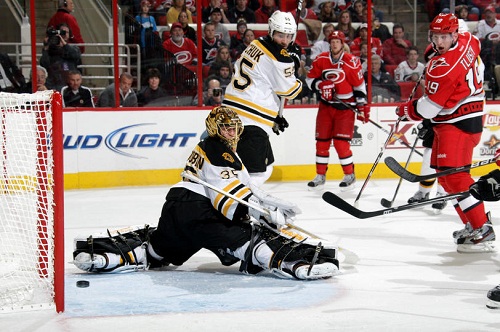 A second period rally by the Carolina Hurricanes just wasn't enough to overcome a strong Boston Bruins team. The Bruins used a goal from David Krejci with 1:50 remaining in regulation to break a 3-3 tie, and a Tyler Seguin empty netter to seal the deal and take a 5-3 win over Carolina in an exciting and physical game.
The Hurricanes fell behind early in the game as Brad Marchand and Zdeno Chara scored a short-handed and powerplay goal in the first 10 minutes of the game. Being outplayed for much of the opening period, Tim Gleason decided to drop the gloves with Milan Lucic, and it sparked the Hurricanes' play in the first. Jamie McBain took a slap pass from Eric Staal and redirected it into the net to cut the lead in half to end the first period. After a Nathan Horton goal late in the 2nd, Jeff Skinner continued his scorching start by scoring a goal with 2 minutes remaining in the period, and less than a minute later Eric Staal scored from a nice pass from Alex Semin to tie the game going into the final period.
With all the momentum on their side of the ice, the Hurricanes did the last thing any team wants to do in a tie game with a very good opponent; they played for the tie. There wasn't any sort of attacking mentality for the Canes, and they seemed content on playing back in their own zone. Meanwhile, Boston used rush after rush to sustain pressure on goaltender Cam Ward, and finally broke through on the Krejci goal, from a nice feed from rookie Dougie Hamilton, to break the tie.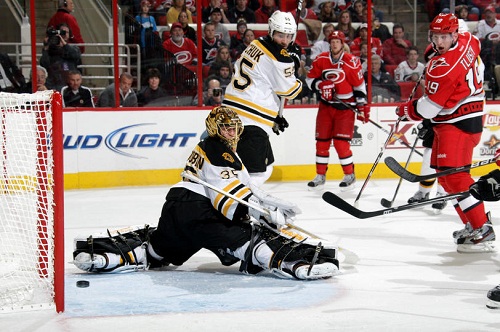 The Hurricanes played a good game against a team that was much better than they were tonight, but the fans were left disappointed at the lack of attack in the third period. The Canes get a few days off to heal from some bumps and bruises. Defensman Justin Faulk was out with an upper body injury, but all reports suggest that he should be back by Friday for a home game against the Ottawa Senators. A good effort resulted in no points for the Canes last night, but the scoring is beginning to come around and if the Hurricanes can just shore up their own end, they should be a force in the East by season's end.