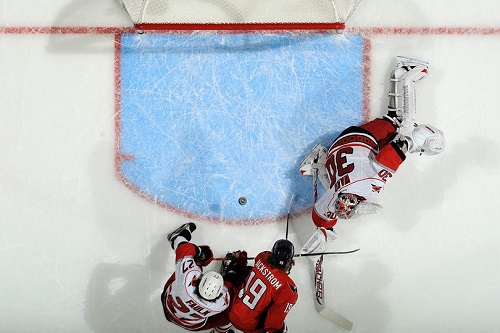 Alex Semin's return to the nation's capital didn't go as planned for the Carolina Hurricanes. Despite a strong effort that included some circus-like saves from goaltender Cam Ward, the Hurricanes were outshot and outplayed by the cellar-dwelling Washington Capitals which resulted in a 3-0 shutout for the home team.
Nicklas Backstrom, John Erskine, and John Carlson each scored in the first, second, and third periods, respectively, and the Hurricanes were unable to solve the Capitals defense and goaltender Braden Holtby. Holtby was peppered with 33 shots and stopped all of them. The lack of offensive firepower resulted in the second road game in which the Canes were shut-out. They also lost by a score of 3-0 in Montreal a few games ago.
The Hurricanes still hold on to the division lead, but are tied in points with Tampa Bay and Winnipeg for at the top of the Southeast division with a game in hand. The Canes have yet to win a game against a divisional opponent, which is a concerning statistic considering the shortened season will see the Canes play teams from the Southeast on a more regular basis. With five regulars still out for the Hurricanes, they have to find a way to keep grinding through these games if they want a chance at the division crown.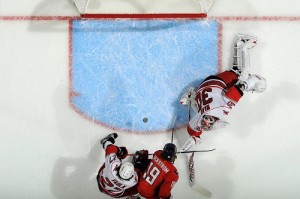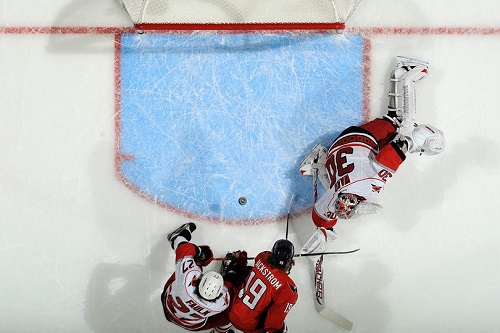 This was the first game that Alex Semin played against his former team and there were verbal barbs directed towards Semin from some of his former teammates. He was booed frequently and had a relatively quiet night on the ice, but a shorthanded chance came in the first period as he skated in on Holtby on a breakaway. The story was written and all Semin needed to do was finish the shot for the perfect return to the Verizon Center, but Holtby shut the shot down and proceeded to be excellent all night.
The Hurricanes travel back home to take on the Pittsburgh on Thursday night. The game reunites Jordan Staal with his old team, as well as Brandon Sutter's return to Raleigh for the first time since the trade. The Canes need to tighten the screws and play some hard-nosed hockey in order to beat the powerhouse Penguins.