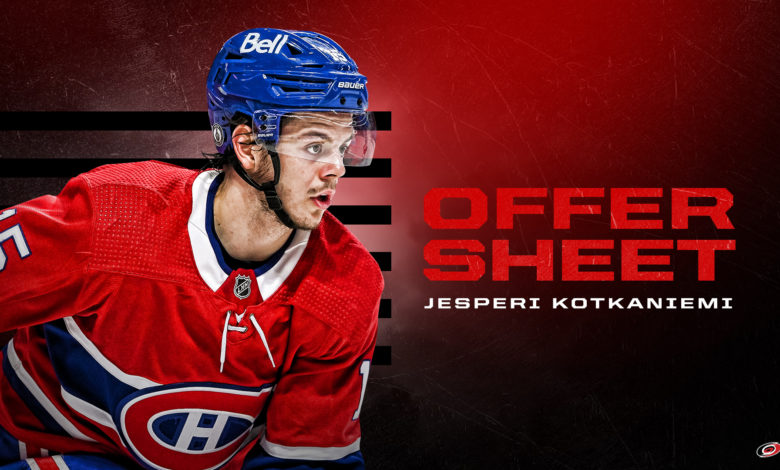 For the first time in forever, there is offer sheet drama in the NHL. Despite being a legitimate tool in a general manager's arsenal for acquiring young talent and weakening other organizations it's almost never used. Until this summer it existed more as a concept that allowed bloggers and media members to fill column space with hypothetical proposals (Lightning fans would be familiar with those types of pieces after the last few off-seasons). That changed over the weekend when the Carolina Hurricanes offered Montreal Canadiens restricted free agent Jesperi Kotkaniemi a contract for $6.1 million and he accepted it.
Based on the way Carolina's social media team has been promoting the deal, there is a tremendous amount of spite behind the deal. For those who might have forgotten, two summers ago the Canadiens signed Sebastian Aho to a 5-year, $42.27 million offer sheet. Carolina easily matched that offer and retained the services of the young Finn (at a fairly affordable deal, one might add). Montreal miscalculated the ability of the Canes to match the signing bonus-heavy contract and their level of pettiness.
Let's review the facts:
The one-year deal that Kotkaniemi signed had a $20 signing bonus. (Aho's number is 20).
The Hurricanes Tweeted confirmation of the deal in French:
https://twitter.com/Canes/status/1431733173864607751
General Manager Don Waddell released a statement that is word-for-word the same statement that Marc Bergevin made when Aho accepted their offer.
On Sunday, Renaud Lavoie reported that, according to his sources, the idea of an offer sheet came from Carolina owner Tom Dundon, and not Waddell. It seems he wasn't happy that Montreal forced him into a contract with Aho, that while it is reasonable overall for the talented young forward, is loaded with a ton of signing bonuses ($38,620,000 worth) meaning he had to lay out a bunch of cash. More than $21 million had to be paid out within a calendar year, which obviously rankled the owner.
Montreal is faced with losing a young forward with a tremendous amount of offensive potential or signing him to a deal that will propel them over the salary cap limit and force them to sever ties with players they were anticipating on having for this season. If they let Kotkaniemi walk, they will be compensated with a first and third round pick in next year's draft. Which is nice, but not much of a help for the on-ice product this year.
While the social media antics make the deal way more amusing in this day in age, the contract does come with a risk for Carolina. It basically maxes them out in regards to the salary cap. They are paying $6.1 million to a player that has out up 62 points in 171 NHL games and has spent most of his time on ice on the third line.
In Carolina, he probably starts off as the third-line center as well, but could theoretically take the number two spot from Vincent Trocheck if he realizes his potential. Centering a line with Nino Niederreiter and Martin Necas could be a boost to his offensive production. After losing to the Lightning in the playoffs last season, perhaps they felt they needed more speed and skill to strengthen the depth of their roster. It will be great to see how Kotkaniemi does in a shoot-first, go-go-go offense.
A lot of folks online have pointed out that since it's just a one-year deal, he will be a restricted free agent that will require a pretty hefty tender offer to stay with Carolina after this season. They do have options. One – if he plays well and they think he is a long-term solution with the 'Canes, they can sign him to a multi-year deal with a lower cap hit. Two – if he struggles with his consistency, the can always non-tender him and let him enter the free agent market having only lost out on some cash, a low-end first round pick, and a third-rounder.
Or, they can always pull a Lightning/Flyers move and trade him back to the Canadiens, basically negating the deal.
There is the thought that the 'Canes have made such a social media spectacle out of a contract negotiation to try and recoup some of the negative press they received this summer from signing Tony DeAngelo. That's quite possible. As an organization, they've created a brand known for skirting the line of professionalism (as defined by an aging generation of hockey pundits) and value the positive press of their online shenanigans. With the goldfish-like attention span of the internet, they might be hoping that these latest online posts will make some folks forget their pursuit of DeAngelo.
Whatever the reason, at least some excitement has been injected back into the restricted free agent/offer sheet world. Too many years have gone by with just theoretical, "what if x signed y to an offer sheet" stories. It finally happened and we can see what the result will be. That's fun!