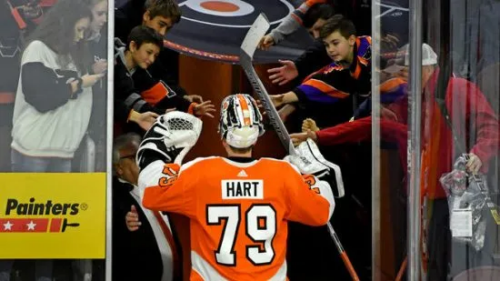 There is no doubt that we will see a significant shift within the Philadelphia Flyers organization over the next few months. Almost everyone is aware that major changes are on the horizon, but we haven't had a clear picture of what some of those changes might look like until now.
Elliotte Friedman, a National Hockey League insider, shared his thoughts on the developing situation in Philadelphia on Monday, and it was during those discussions that he dropped a bombshell about Flyers goaltender Carter Hart. Friedman said he believes Hart will be available.
"I think you're bang on with Carter Hart," said Friedman of the Flyers netminder on the 32 Thoughts podcast. "You talked about him on Saturday night and I think he's going to be available."
As the Flyers prepare for what appears to be a complete tear down and/or rebuild of their current roster, Hart appears to be out of the picture. On Saturday night, Friedman's podcast co-host had this to say about Hart:
"We're really starting to wonder about Carter Hart," said Jeff Marek on Saturday night. "The presence and emergence of Samuel Ersson the netminder of Lehigh Valley has really given the Philadelphia Flyers some options here."
According to Marek, the play of the 23-year-old Swedish netminder has made the Flyers more comfortable with the prospect of trading Carter Hart as they embark on a rebuild, and it appears that both sides would welcome it.
"What would they for Carter Hart on the open market?" asked Marek. "We suspect a lot. And does Carter Hart want to spend what would probably be the best years of his career in a rebuild? Something very much to watch there."
All of this suggests that Carter Hart is playing his final games with the Philadelphia Flyers.
Hart has appeared in 194 regular season games in his NHL career, recording a 2.97 goals against average and a.905 save percentage. There is no doubt a long list of NHL teams interested in acquiring the Flyers' 24-year-old goaltender.