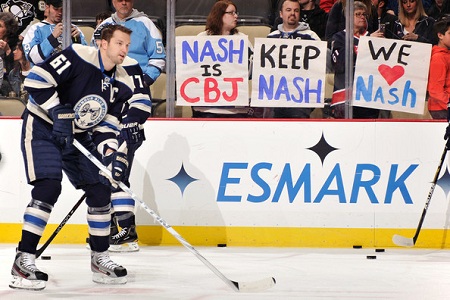 The New York Rangers and Columbus Blue Jackets have been linked together like peanut butter and jelly since this past NHL Trade Deadline. It's no secret that Columbus wants to deal Rick Nash to speed up the rebuilding process, and the Blueshirts need offense wherever they can find it. It's not a matter of "if" Rick Nash will get traded, it's a matter of when and where he will land. Rangers GM Glen Sather balked at the Blue Jackets asking price at the deadline, but the two sides have been talking again to try and get a deal worked out. It's a thin market for goal-scoring free agents after Zach Parise (and he's already expressed his lack of desire to sign with the Rangers), and Marian Gaborik (New York's top goal-scorer) is out until at least December (which may not matter if there's a lockout, but I digress). The Rangers offense struggled, even with Gaborik's 41 goals, so adding another goal scorer is vital. Columbus GM Scott Howson can get a lot for Nash, but the Rangers may be the team he can get the best return from. Columbus is rumored to be targeting the following players:
-F – Chris Kreider: 2 years left – $1.325 million (RFA)
-F – Derek Stepan: 1 year left = $875,000 (RFA)
-F – Brandon Dubinsky: 3 years left – $4.2 million (UFA)
-D – Ryan McDonagh: 1 year left – $1.3 million (RFA)
-D – Michael DelZotto: Restricted Free Agent as of July 1st
*Draft picks and prospects are also in play – but the bulk of a trade would have to include NHL-ready players to get Nash.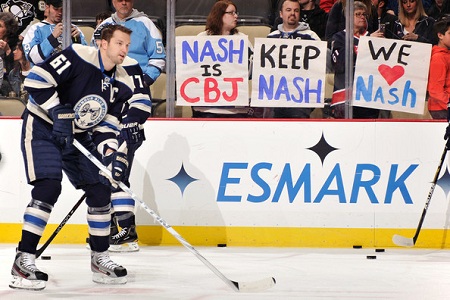 Pros and Cons of dealing each player:
CHRIS KREIDER
-Pros: None of us have a crystal ball, but this could be the highest Chris Kreider's trade value might ever be. I recognize that this very likely ISN'T the case (I'm playing devil's advocate here), but there's always that chance that he could be nothing more than a 20/20 per season guy in his career. It's one thing for the center piece of a trade to be evaluated on potential, it's another when a rookie steps up to the plate in the middle of a playoff series, produces, and backs up the potential (18 playoff games – 5 goals, 2 assists) to increase his value.
-Cons: You never want to give up a guy who is 6'3″ 230 lbs, can skate as fast as Carl Hagelin, has great hands, smooth stick-handling ability, and is only 21. He stepped in to the middle of a playoff run on a top-seeded team with the poise of a veteran and kept the rookie mistakes to a minimum in high pressure situations. Kreider won two national championships at Boston College and looks like a player who is only going to get better over the next few seasons. You have to give up something substantial to get something substantial, but Kreider could be a top contributor on Broadway for years to come.
DEREK STEPAN
-Pros: Stepan is the type of player that can make a GM go from being on the fence in a trade proposal to saying yes. He's listed at 6'0 170 lbs (you can probably shave an inch or two off of that), can win face-offs, is a quick skater, and he isn't afraid of contact. On a team like Columbus, he would be a quality center and provide them with depth that they desperately need. He's a good player, but not a must-keep guy.
-Cons: Rangers fans have seen what Stepan can do. He has one more season left at $875,000 and increased his production from his rookie season in to his 2nd season (21G 24A in 2010-11, 17G 34A in 2011-12). For the upcoming season, he'd be a bargain, is well-liked in the locker room, and he's only 22.
BRANDON DUBINSKY
-Pros: If the Rangers are to acquire Nash and his $7.8 million dollar contract, they'll need to clear some cap space. Nobody else on the Blue Jackets above wish list takes up a lot of cap space, so they'd need to take someone from the Rangers that will help with that. Duby meets that requirement. He's a solid player that contributes offense occasionally (I don't think we'll see another 24G 30A season out of him like we did two years ago), but I think we've seen his offensive skills peak. He provides Columbus with an edgy player and also more quality depth. He's very expendable considering the return.
-Cons: He brings grit to the Rangers line-up and is a popular locker room guy (he came up through the AHL with some of the current Rangers). He's a fan-favorite, but he's far from being a must-keep.
RYAN MCDONAGH
-Pros: Like I said earlier with Kreider, you need to give something to get something. Sather can probably get away without giving up both McDonagh and Kreider, but he'll have to give up one. Just like Kreider, McDonagh's value may never be higher than this. If you give up McDonagh, you still have Girardi, Staal, Del Zotto (they'll bring him back if they give up McDonagh), possibly Sauer, former first round prospect Tim Erixon, and their 1st round pick from 2010 Dylan McIlrath (6'5″ 215 lbs and plays with a mean streak). They have young depth at defense to play with, and scoring is the issue. If you give up Kreider, you're getting offense back, but you're also giving up a potential 30-goal guy.
-Cons: When Marc Staal couldn't start the season due to concussion-like symptoms (I love that phrase – it's like saying "sorry I can't make it in to work today, I have hangover-like symptoms" – just call a spade a spade), Ryan McDonagh moved up to the top pairing about as flawlessly as you'll see a young defenseman can. Transitioning to defenseman at the pro level is one of the toughest transitions for any position in pro sports. The 23-year old Minnesota native handled it like a champ. He played so well that when Staal returned, McDonagh never left the top pairing. Another reason to like McDonagh is because the Rangers acquired him in a swap for one of the worst contracts Glen Sather ever handed out (and that's saying something) in Scott Gomez. When you pull off a heist like that, you're attached to the player a little more.
MICHAEL DEL ZOTTO
-Pros: Del Zotto had a stellar rookie season (9G 28A in 80 games), a bad sophomore slump (2G 9A in 47 games), and rebounded nicely in his 3rd season(10G 31A in 77 games). The jury is still out on whether or not he can become a consistent player. He didn't perform great in the playoffs, but that could also be a case of hitting the proverbial wall. Having a puck-moving defenseman is important on the power play, but Brad Richards is locked up for awhile and can handle those responsibilities. Tim Erixon is also a puck-moving defenseman and could be ready to move up to the NHL full-time this year.
-Cons: Del Zotto is only 21, and puck moving defensemen are a cherished possession that not every team has the luxury of. If Tim Erixon can't be serviceable in that regard, the Rangers blueline lacks mobility. The other issue is that Columbus acquired D Jack Johnson in the Jeff Carter trade with the Kings and already have James Wisniewski locked up long term (who is also capable of handling the puck). While having three puck-movers is never a bad thing, they are looking for more of an all-around type of defenseman besides Fedor Tyutin.
In a perfect world for Rangers fans – the Rangers give up Dubinsky, Del Zotto, their 1st round pick and a prospect like JT Miller for Nash and a throwback pick/ player. But Columbus needs to accomplish two things in this trade – getting NHL ready forwards to fill out the depth chart, and acquire a good young prospect that can be ready in a year or two. They also desperately need a goalie, but that won't be happening in this trade unless this becomes a three-team deal. Fans tend to forget in a trade that both sides need to get something. With an asset like Nash, Columbus has to get back a ton. Nash is under contract through 2017-18, so Scott Howson is in no rush to move him. He knows how badly the Rangers need an offensive boost, and it's going to cost Glen Sather a package including either Kreider or McDonagh to do it.