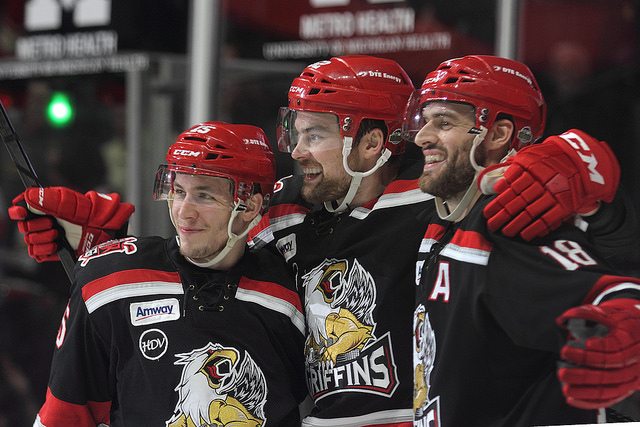 The Grand Rapids Griffins qualified for the playoffs after winning the Calder Cup as American League champions last season. They face a do-or-die Game 5 tonight, as their First Round series with the Manitoba Moose is tied at two games apiece. Below is my interview with Finnish defenseman Vili Saarijarvi, followed by my regular season assessments of various Griffins players.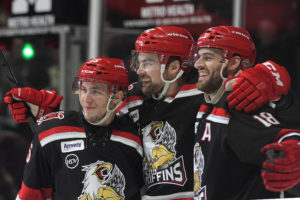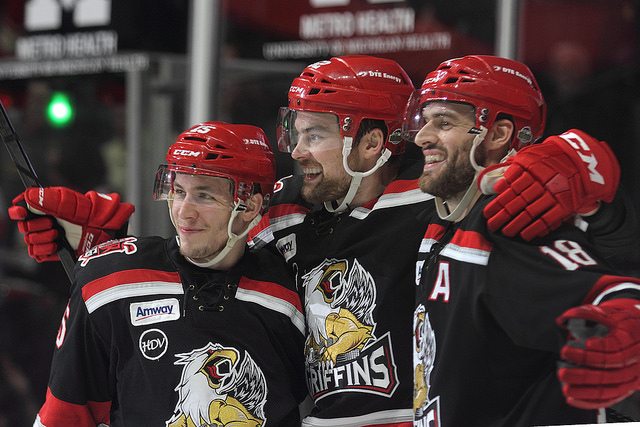 —
Following is my interview with Finnish defenseman Vili Saarijarvi:
How's your season been?
"It's been a little bit of a roller coaster, but in a positive way I think. It's been a lot of fun and a learning experience for me for sure. But, I'm having a good time, and trying to make myself a better player every day, come in the rink every day, work as hard as I can to get better, and then at the same time help this team win. It's been a good learning process for me."
You started the season with Toledo (Walleye of ECHL). What did you learn from that experience?
"First of all, it was a very good chance for me to prove myself and that I can play and get good minutes and it helped to come up here when I had a few games under my belt there and some ice time. So it was easier to come back here and jump right into the game. The coaches down there and the players down there, they helped me a lot. It kind of was easy to go there because I was there two years ago for a few games. So, knowing a few guys from down there, it definitely helped me, made me feel more comfortable."
Who are some leaders on this Griffins team?
"A lot of guys. Mac (Tom McCollum) and Lash (Brian Lashoff), and Reno (Dan Renouf), I think they've been big part, and then off the ice there's a lot of guys like [Corey] Elkins. The way he's a pro. I've been taking a lot of good tips from him off the ice, like how to take care of your body and stuff like that. But, a lot of guys have been helping me a lot. It's been good to look up to those older guys and how they're a pro every day, like Streeter (Ben Street), [Matthew] Ford, so I think it's been great for me to be around them and learn from them."
Your friend Joe Hicketts spent some time in the NHL following a call-up.
"Oh yeah, I was really happy for him. He's doing very well there. I hope he keeps playing the same way he's doing. He definitely deserved it. I'm just happy for him. When you see a good friend of yours, goes up and plays in the NHL I think it's great to see."
Does that boost your confidence that a smaller defenseman can make it in the NHL?
"Yeah for sure. Especially, both me and him are a little bit undersized defensemen, so it shows that it's not that you're too small for NHL or even here. Joe has proven that in the first few games he's been playing there that it doesn't matter if he's a little bit undersized. I think, definitely it shows me that I can be there too."
—
Next I'll provide some insight on more players on the roster.
Filip Hronek
Hronek has been a delightful surprise for this squad. After excelling in the Ontario League, he successfully transitioned his game into the professional level. He finished the regular season with the most defensive points on the team (39). According to coach Todd Nelson:
"He's worked hard all year. He's always a guy in practice that stays out late and wants to work on his game. But I think, just through playing games he got more confident as he went along. He's having a great rookie season. He's put himself in a good position to maybe get an opportunity next year with Detroit. So we'll see what happens."
Nelson also pointed out that Hronek was a part of all but one of the team's shootouts this season. He displays great end-to-end play, similar to that of Bryan Rafalski. He's just as responsible in the offensive and defensive zones. His potential is sky-high right now.
Evgeny Svechnikov
Not the season he was hoping to have. Goal, assist, and point totals are way lower than last season. He had some success with Detroit, which will help him progress his game. He has more work to do this off-season. A good training camp will redeem him.
Dominic Turgeon
Turgeon is out for the season after having procedures related to blood clotting. A press release noted that he was being treated for thoracic outlet syndrome, which affected his right arm. His season, however, was great. He increased his goal total by eight, assist total by six, and point total by 14. He also played five games with the Red Wings. His development is coming along pretty well.
"I think his confidence changed a bit just from coming in his second year," said forward Ben Street. "Right from the g et-go this season, I think he wanted to take a step up. He did a great job for us playing center on our fourth line last year. I think there's a bit more offensive game to him. He does a great job for us on the PK as well. So I think he was ready for his minutes to go up. We were so deep last year at center that there was almost nowhere for him to go, but he did a great job of growing his game, and he continued that over the summer. I don't think anyone in here would be surprised that he's taken the step he's taken this season."
Eric Tangradi
The large forward of 29 years of age had his best season of his career, 31 goals and 64 points. This comes after his 19 point playoffs (19 games) last year. He's a veteran of 144 NHL games, and he isn't slowing down at the AHL level. He finished the season one point behind the team lead for points.
Luke Esposito
Esposito had slow starts to both his Toledo and Grand Rapids seasons this year, but the forward fresh out of Harvard University has a ton of skill.
"I think he's drastically improved since the start of the year," said coach Nelson. "I think his time in Toledo served him well. But what he brings to our team, he adds some speed to our lineup, he's a smart player that has some skill, that can make plays. We didn't see too much of that at the start of the year, but I think going to Toledo gained him confidence and now he's brought that confidence here. He's filling a void that we need at center and he's doing a great job."
Jared Coreau and Tom McCollum
Both goalies' stats are nearly identical this year. Coreau played 38 games, with a 2.52 GAA and .913 SP, while McCollum played 37 games, with a 2.64 GAA and .912 SP. The former led the Griffins to the Cup last year while the latter won the Cup in 2013.
McCollum began the round as the starter, but was pulled two games ago in favor of Coreau. Following the loss, Coreau was named the starter of Game 4, and stopped every shot in a shutout win. Jared didn't have the best of times in Detroit, as the porous defense led to a lot of goals against (many not to his fault). Nevertheless, his stats at the AHL level speak for themselves.
Detroit Prospect Joe Hicketts Impressed in Short Time With Red Wings
Joe Hicketts
Hicketts impressed everyone this year. He proved that a small defenseman (5-8) can play in the NHL. Always playing bigger than his size, he scored three assists in Detroit, and continued his consistent play in GR.
Follow me on Twitter @KevinSporkaHOHM
Love Reading About Hockey?

Subscribe to keep up-to-date with the latest and most interesting hockey news!
| | |
| --- | --- |
| | We hate spam just as much as you |