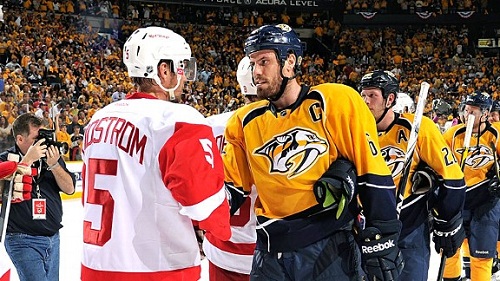 We are back at it, today with the Top 5 Defensemen in the Central Division. We've already taken a look at the Top 5 Forwards of the Central Division, which essentially consisted of a lot of Blackhawks and Red Wings. The defensemen are a far different story as almost every team in the division has a high-caliber defenseman. However, this division did just lose a legend with the retirement of 7-time Norris Trophy Winner, 4-time Stanley Cup Winner, Conn Smythe Trophy Winner, Gold Medalist Nick Lidstrom. Lidstrom will probably go down as one of the top-3 defensemen of all time and his retirement will open up a spot on this list that hasn't been open for the last 15 years. Let's start by looking at the guys that just missed the cut.
Honorable Mentions (in no particular order): Niklas Hjalmarsson, Jack Johnson, James Wisniewski, Kevin Shattenkirk, Nick Leddy
After the 2009-2010 season, many GM's recognized Niklas Hjalmarsson's value and the Sharks actually tried to sign the RFA to a four-year, $14 million offer sheet. The Blackhawks decided to match the offer and retained a guy they consider to be one of their top 3 defensemen. Hjalmarsson is just a solid, all-around defenseman that hits, blocks shots, and contributes a little bit offensively. At just 25 years old, the Blackhawks have to love knowing that he's still going to get better. Jack Johnson is a newcomer to the division, having been acquired by Columbus at the trade deadline last year for forward Jeff Carter. Johnson is a very good skating defenseman with a great shot and he finished last year in the top 10 in goals amongst defensemen with 12. He found his game towards the end of last year after the trade, so hopefully the Jackets will see him push the 45-50 point mark and improve the offensive breakout and powerplay unit.
James Wisniewski is also a newcomer to this division, having only signed on with the Blue Jackets in the offseason prior to the 2011-2012 season. However, after scoring 10 goals and 50 points in the 2010-2011 season, Wisniewski was only able to stay healthy for 48 games and posted just 27 points. Wisniewski is a tough, offensive defenseman that hits, blocks shots, and can put up points. If he can return to form this year, Columbus will have a pretty tough top defensive pairing. Kevin Shattenkirk is another good young defenseman (go figure, this division is loaded with them) and is one of the main reasons St. Louis has been so tough defensively. Shattenkirk had a monster year last year, posting 9 goals, 43 points, +20, 103 blocked shots, and just under 22 minutes of ice time a game. Oh and he's just 23 years old. St. Louis is in for a real treat with this highly talented defender. His shot is heavy and you can see it here.
Very rarely do you ever see a puck get blown by Jonathan Quick, but wow. Finally, Nick Leddy is an absolute gem for the Blackhawks. The Blackhawks brought him up for his first full year this past season and he did not disappoint, recording 3 goals and 37 points while playing in all 82 games and providing 22 minutes of ice time. This kid is even younger, as he's just 21 years old. If Leddy can work on his positioning and his stick work a little bit, he'll become a staple on this list for a long time.
And now, let's look at the top 5 defenders.
#5 Brent Seabrook, Chicago Blackhawks
If you haven't figured it out by now, Chicago is absolutely loaded on the back-end. Seabrook has always flown under the radar a bit because of his teammates, but Seabrook is a high quality defenseman. Seabrook plays a very strong two-way game, throwing big hits when needed while chipping in with timely goals with his heavy slapshot. He's also a plus player, with his rookie season being the only season he's ever finished with a minus rating. Seabrook led the Blackhawks in hits and blocked shots, played 25 minutes a night, and managed to only have 22 PIM's in the 78 games he played in. He's an exceptional all-around player and again, he's only 27 years old. Blackhawks fans, enjoy Seabrook's prime as he's just starting to hit his stride. We might be able to expect some All-Star appearances down the road.
Last Year: 9 goals, 25 assists, 34 points
Projection: 10 goals, 28 assists, 38 points
#4 Niklas Kronwall, Detroit Red Wings
Kronwall has some BIG skates to fill in Detroit, but if there was any defensemen that could do it, it's Kronwall. However, Kronwall plays with a style that is so different from his predecessor and mentor Nick Lidstrom. While Lidstrom prefers to use stick and body positioning to neutralize an attack, Kronwall prefers to run people over. Literally. Kronwall has had numerous hits exactly like that one, spawning the term "Kronwalled". His victims include Jakub Voracek, Ales Hemsky, Ryan Malone, Dany Heatley, Danny Briere, Ryan Kesler, Ryan Clowe, and the list goes on. But Kronwall is about far more than that. Kronwall this past season also lead the Wings defensemen in goals, points, blocked shots, shooting percentage, and total ice time. With #5 no longer suiting up for the Wings, Kronwall will be counted on offensively and defensively more than ever and I think Wings fans are expecting him to respond in a big way.
Last Year: 15 goals, 21 assists, 36 points
Projection: 15 goals, 34 assists, 49 points
#3 Alex Pietrangelo, St. Louis Blues
Similar to the Blackhawks, the Blues have a solid stable of defensemen, and Pietrangelo is their stud. Pietrangelo scored 12 goals, 51 points, was a +16, and played 25 minutes a night with heavy time on both the PK and PP. At 6'3″, 205 lbs and just 22 years old, Pietrangelo has firmly established himself as one of the best young defenseman in the NHL. He was in the Norris Trophy conversation for a large majority of the year and for good reason. He hits, blocks shots, is strong on the puck, and is hard to skate by. He makes excellent decisions with the puck, exhibits great patience, and is very hard to pressure into mistakes. He exhibits maturity on the ice far beyond his years and will be a great defender for years to come.
Last Year: 12 goals, 39 assists, 51 points
Projection: 15 goals, 42 assists, 57 points
#2 Duncan Keith, Chicago Blackhawks
After winning the Norris Trophy in 2010, Keith started to draw major comparisons to Nicklas Lidstrom, with many touting Keith as a guy that could win multiple Norris Trophies in the near future. However, Keith regressed in 2010-2011 and many wondered if that was just a fluke season. Keith responded in a big way in 2011-2012, finding his game, and returning to elite form. Keith recorded 4 goals and 40 points to lead all defensemen on his team. While his point numbers are still a far cry from his Norris Trophy season (14 goals, 69 points), Keith still returned to form for the Hawks and found other ways to contribute. Keith also led the team with just under 27 minutes of ice time a game, blocked over 120 shots, and recorded 48 takeaways. He was a workhorse the entire season. Keith is still just 29 years of age and in the middle of his prime, so we should see him push his point numbers a tad bit higher.
Last Year: 4 goals, 36 assists, 40 points
Projection: 8 goals, 38 assists, 46 points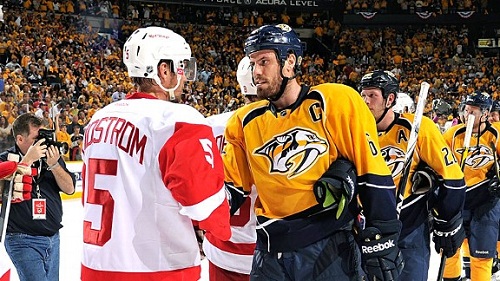 #1 Shea Weber, Nashville Predators
This one was a no-brainer in my book. Shea Weber is without a doubt one of the top-3 defensemen in the NHL and will be for at least the next 5 years. He has a booming shot, exhibits incredibly positioning, can hit, block shots, and can play in any situation. One of the highest praises I heard about Shea Weber was when Nicklas Lidstrom was asked which player he would like to play defense with. Lidstrom answered Weber, saying that he thought Weber was the best defenseman in the NHL. Even though his partner in crime, Ryan Suter, is gone, Weber will still keep up his high level of play and will continue to be a nightmare for opposing forwards. One of these days, people will recognize his talent and give him the Norris Trophy that he deserves. He's only 27, so expect him to be in contention for the next 7-10 years.
Last Year: 19 goals, 30 assists, 49 points
Projection: 17 goals, 35 assists, 52 points
That's our top 5 defensemen in the Central Division. Disagree with our rankings? Comment below! Stay tuned for the ranking of the goaltenders!