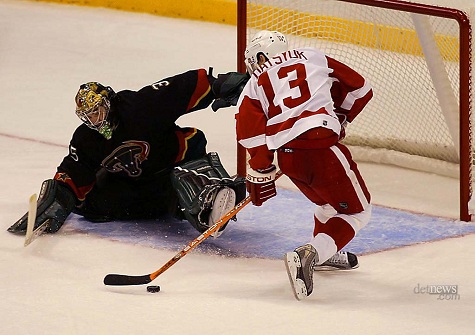 Alright, so we've finished the Eastern Conference, so now let's shift our focus over to the Western Conference. Today, we'll look at the top 5 forwards in the Central Division, a division that has produced 2 Stanley Cup Champions and 1 Stanley Cup Finalist in the last 5 years.
Honorable Mentions (in no particular order): Patrick Kane, T.J. Oshie, Johan Franzen, Valtteri Filppula, Patrick Sharp
Patrick Kane may be one of the most talented players in the NHL with some of the sickest moves in the game. However, the depth at forward in the Central Division makes it so he just misses the cut here. In any other division, save maybe the Atlantic, Kane is a top 5 forward as he is one of the best at scoring. However, he can get taken out of games at time with physical play as evidence by some stretches last year, so if he can find a way to be more consistent, we may see him on our list next year. T.J. Oshie is another good young player that is just starting to come into his own. Oshie is just 25 years old and was tied for the Blues lead in scoring this past season. Oshie is a big boy that hits, has soft hands, and can dangle the puck on a string. He's going to be a good one in this league for a long time, but as mentioned previously, the forward depth in the Central is unreal.
Johan "The Mule" Franzen has one purpose when he steps on to the ice and that is to score goals. When Franzen gets hot, he instantly becomes one of the top 5 goal scorers in the league as evidenced by his run in the 2008 playoffs. The Colorado Avalanche can certainly testify to that. In the Wings 4 game sweep of the Avs in the 2008 Western Conference Semifinals, Franzen tallied 9 goals in the 4 game series, on his way to a 13 goal playoff run. Unfortunately, Franzen doesn't do much else besides score. If Franzen can round out his game and be more consistent during the season, we may see him on this list next year. Valtteri Filppula is another Red Wings gem who is finally coming in to his own. Tasked with centering the 2nd line, Filppula put up a career high 66 points last year, finishing 3 points out of the team lead. He'll get an even bigger role this year and we should see him improve even more. Patrick Sharp was maybe the toughest omission on this list. You can pretty much count on Sharp posting 25 goals, 40 assists, and playing solid two-way hockey. Last year, Sharp finished 2nd on his team in points, and lead the team in goals. Sharp just narrowly loses out to a couple of his teammates, who we'll look at in just a little bit.
And now, for the guys that did crack our top 5.
5. David Backes, St. Louis Blues
Backes is exactly what a coach wants. He's 6'3″ 225 lbs, hits, leads, scores, backchecks, forechecks, and stands up for his teammates. He's the consummate professional and is a coach's dream. The Blues are an offensively challenged team and Backes is their unquestioned leader. He tied for the team lead in points with 54 and led the team in goals with 24. I think what separates Backes from the other top forwards on this list is his physicality. Backes is such a tough forward to play against, not just because of his offense, but because of how hard he makes opposing forwards work and how much pressure he puts on opposing defensemen with his forechecking. Backes is just 28 years old, and is in the middle of his prime and he's going to keep getting better and better. I think the only thing really holding him back from putting up better numbers is the Hitchcock defensive system that he plays in. If he played in a more wide open system like Pittsburgh or Detroit, I think Backes would put up closer to 70-80 points. Nonetheless, he's the unquestioned leader of one of the top teams in the Western Conference and he's earned his place on this.
Last Year: 24 goals, 30 assists, 54 points
Projection: 27 goals, 32 assists, 59 points
4. Henrik Zetterberg, Detroit Red Wings
It's tough to slot someone as talented as Henrik Zetterberg as low as 4th, but there are some supremely talented players above him. Henrik is another guy like Backes, that coaches just love to have on their teams. Zetterberg is one of the top 5 defensive forwards in the NHL, including several memorable plays over the years. His numbers dipped offensively this past year, but he still lead the team in points with 69 and lead the team in shots on goal. He always puts so much pressure on opposing defensemen, but is always matched up against the best forwards. He is a fantastic all-around player and one of the few players that can literally do everything. He wins faceoffs, backchecks, scores goals, sets up plays, and plays efficient hockey. I really can't say enough about this guy. However he is a bit older, now 31 years old, and we can't exactly expect many improvements. His career high for points is 92, but that came 5 years ago. Since then, we've seen his numbers dip down to 69 and we can't project that to get much better. However, what he brings to the table in other situations earns him this spot on the list.
Last Year: 22 goals, 47 assists, 69 points
Projection: 25 goals, 45 assists, 70 points
3. Marian Hossa, Chicago Blackhawks
Hossa is similar to Zetterberg in that he's a top-notch defensive forward that is also a nightmare offensively. Hossa has one of the best wrist shots in the game, but is also one of the best skaters in hockey, and always efficiently transitions from offense to defense. His backchecking skills are up there with former teammate Pavel Datsyuk, and because of his size (6'1″ 210), he's also one of the hardest players to take the puck away from. Along with Patrick Kane, Patrick Sharp, and Jonathan Toews, Hossa helps form probably the best top 4 forward unit in the NHL. He is 33 years of age, but his skills have not diminished at all and he's kept up his level of production. There's not enough adjectives that you can use to describe Hossa. Fast, strong, big, deceptive, and more. Even though he's not liked by a lot of people for his team jumping when he was trying to win a Stanley Cup, you have to respect his skill level and skill set.
Last Year: 29 goals, 48 assists, 77 points
Projection: 33 goals, 50 assists, 83 points
2. Jonathan Toews, Chicago Blackhawks
Toews is going to be a good one. I can't really say much more than that. Toews is probably the most natural-born leader that I've seen since Steve Yzerman. He's not concerned about his numbers at all, just winning. Toews in many ways reminds me of a late-90's version of Steve Yzerman, a player that's not concerned about his numbers, just with leading his team and doing whatever was required of him. Toews is a phenomenal two-way player that also excels in the faceoff circle, and has one of the best releases on his wrist shot. Toews has never recorded more than 34 goals or 76 points in a single season, but he knows that's not how he's measured. He's measured for what he gets out of his teammates. Every team needs a leader like Toews, a player that does all the little things, and sets a fantastic example for his teammates.
Last Year: 29 goals, 28 assists, 57 points
Projection: 39 goals, 40 assists, 79 points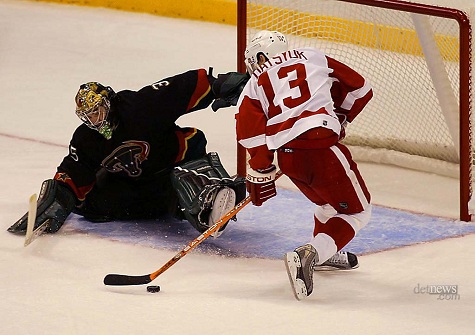 1. Pavel Datsyuk, Detroit Red Wings
The Magic Man is #1 on our list even though he had a down year offensively last year. Datsyuk managed just 67 points last year, but regardless, Datsyuk, like Toews, bring so much else to the table. Datsyuk is a 3-time Selke Trophy winner for being the best defensive forward and he's also one of the most skilled players to play in the history of the game. Unless you've been living under a rock, you've seen the things that Datsyuk can do, like this. Or this. Or even this. Or this. And this. I think you get the picture. Datsyuk is the most gifted player in the NHL, quite possibly the best defensive forward in the game, and the one guy that when he has the puck, everybody in the building is on their feet. Every person, every player, and even his teammates are all in awe of what he can do and sometimes he's so good that other players even get caught up in it. I think a quote from Coyotes All Star defenseman Keith Yandle sums it up best – "That guy is disgusting. It has to be a collective five-guy unit to take care of him, because one or two guys he's going to embarrass."
Last Year: 19 goals, 48 assists, 67 points
Projection: 26 goals, 50 assists, 76 points
That's our top 5 forwards of the Central Division. Disagree? Comment below!