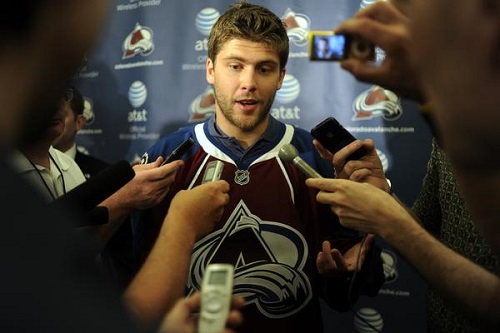 The Colorado Avalanche and goaltender Semyon Varlamov received good news Friday afternoon when a Denver judge dropped the domestic violence charges against the 25 year-old Russian. The incident no longer in question occurred Oct. 29th in Varlamov's Denver apartment. His 24-year old Russian girlfriend, Evgeniya Vavrinyuk, accused him of assaulting her: kicking her, knocking her down and dragging her by her hair. The prosecutors could not find enough compelling evidence to seek further charges against Varlamov and dropped the case. Vavrinyuk's attorney was disappointed about the court's decision, Robert Abrams -who represented the victim in the case- said Friday afternoon that he had not yet talked to his client to hear her reaction.
That is a huge weight off Varlamov's shoulders, one he should absolutely avoid doing again if he can have any say in it. Whether the charges were warranted or not, Varlamov's history with Vavrinyuk –according to her- doesn't sound like a relationship either should continue.
The accusations were highly unflattering, yet fans in Denver largely stood by the 16-9 goalie. That is something his girlfriend said about him, that his fans don't know who he is and that they should know he is a bad person. We'll never know the details of that night unless there is a civil suit, something Varlamov may pursue now that the charges have been unfounded. All we know is that Varly can put this behind him and fully focus on hockey so long as he and Vavrinyuk keep away from eachother.
The Avs are 23-10-1 and despite being up-and-down after a hot start to the season, they are still hanging tough and Varlamov is a big part of their success, having a good season in net so far. Varlamov will comment on the legal development after the Avs game on Saturday against the LA Kings.