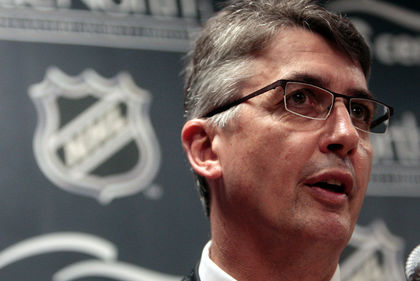 Kevin Cheveldayoff and the rest of Winnipeg Jets management have had enough of their losing ways, and have fired head coach Claude Noel and assistant coach Perry Pearn, as the Jets are mired in a five-game losing streak.
The nail in Noel's coffin was last night's 6-3 home loss to the Columbus Blue Jackets at MTS Centre, during which the Jets allowed four goals in the first nine minutes of the second period. The loss put Winnipeg on a season-worst five-game losing streak that dropped them to 19-23-5 and 10 points back of the final playoff spot in the Western Conference.
"Over the course of a period of time here there were certain levels of expectations that we had collectively for our group of players and individually for players," Cheveldayoff said this afternoon at MTS Centre. "It became apparent over the last little while here that things were not trending in the right direction and that we were going to have do something to try and move things back into a fashion of moving forward."
Former Toronto Maple Leafs and Carolina Hurricanes head coach Paul Maurice has been hired as Noel's replacement until at least the end of the season. Assistant coaches Charlie Huddy and Pascal Vincent will remain with the club. Maurice's deal will only last until the end of this season.
Kevin Cheveldayoff contacted Maurice after Tuesday's dismal 4-2 loss to the Tampa Bay Lightning and reached an agreement with him over the phone late last night. Cheveldayoff informed Noel and Pearn of their dismissals this morning at MTS Centre.
"Hiring Paul Maurice is something that we feel very good about as far as the opportunity that we have to hire an experienced National Hockey League coach to come in here and begin putting his stamp on the team and also on the evaluation process that we're all going to be going through," said Cheveldayoff.
Captain Andrew Ladd and his teammates shouldered the blame for Winnipeg Jets head coach Claude Noel getting fired and replaced by Paul Maurice on Sunday.
"I think it always comes as a shock," Ladd said at a local rink after Jets' practice was cancelled in the wake of the news.
"I don't think anyone expected it this morning so it's not an easy day," said Ladd. "Two good people lose their job. Ultimately, it came down to the performance of all the guys in here. It's tough for everyone."
Noel, hired after the Atlanta Thrashers moved to Winnipeg before the 2011-12 season, went 80-79-18 during his tenure with the Jets.
"All of us should be embarrassed that we're at the point we have to change the coach," said forward Olli Jokinen, a veteran of 16 NHL seasons.
Jokinen added that the players should feel responsible.
"You've got coaches, they spend a lot of hours at the rink trying to figure out how to turn things around and we didn't respond very well and now they're the ones who have to pay the price," Jokinen said.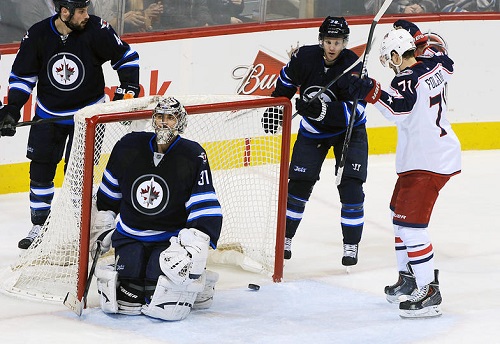 Forward Blake Wheeler said a change seemed inevitable as the Jets continued struggling and he felt "entirely" responsible for his part in Noel's dismissal.
"Ultimately, we're the ones on the ice not getting the job done," he said. "I think we're all responsible, but I think as players we need to look at ourselves. This is an indication of the product we're putting on the ice right now."
The 46-year-old Maurice has a career record of 460-457-167 in 14 seasons as an NHL bench boss. He got the Hurricanes to the 2002 Stanley Cup final, and he won a pair of Southeast Division crowns. Maurice, who spent last year coaching in the Kontinental Hockey League, was 76-66-22 during two seasons as head coach of the Leafs between 2006 and 2008.
No Jets players have played for Maurice, although they were aware of his credentials.
"I see a tremendous amount of experience in the NHL, so I think he's going to bring a lot of experience and a lot of knowledge to what it's going to take to be a winning team," Blake Wheeler said of Maurice. "It's going to be about our conduct on the ice, but I think it's about building a culture, too, so I think he's going to bring a lot of that to our team."
Maurice's familiarity with a hockey-crazy market such as Toronto should bode well in Winnipeg, where players are heavily scrutinized by the media and criticized by fans who pack the sold-out MTS Centre.
"This is a tough market to play," Jokinen said. "Any Canadian market you play, you know expectations are high. You've got a lot of media attention, you've got 15,000 GMs watching the games and another couple 100,000 at home.
"So it's a place, or any Canadian market, that you as a player you have to put all that aside and focus on doing your job the best you can. That's all that you can do."
An underlying story beneath the firing is that of Jets prospect Alex Burmistrov. Burmistrov left for the KHL this past summer, reportedly upset with his playing time and having a feud with then-coach Claude Noel. With Noel gone, will Burmistrov return to the Jets?
The question remains, will the hiring of Maurice render any different results in Winnipeg? Only time will tell, but as Dustin Byfuglien said, "Just someone coming in and no one really knowing him, it could be good for us." Sometimes, change is all it takes to wake a team up.