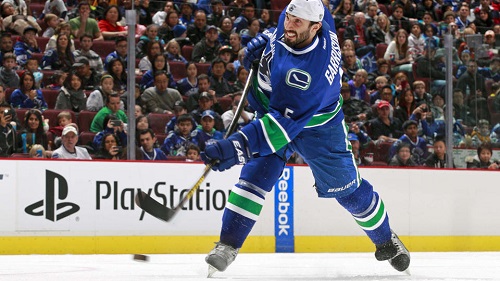 The Vancouver Canucks continued their busy day of dealing, sending defenceman Jason Garrison to the Tampa Bay Lightning along with the rights to Jeff Costello in exchange for the 50th overall pick in the 2014 NHL Draft.
Tampa also receives Vancouver's seventh-round pick in the 2015 NHL Draft in the deal.
The 29-year-old has four years remaining on a six-year deal he signed with the Canucks worth an average annual value of $4.6 million.
In 81 games with the Canucks in 2013-14, Garrison scored seven goals and added 26 assists. He was originally signed by the Florida Panthers as a collegiate free agent in 2008. In 318 career games with the Panthers and Canucks he has scored 38 goals and added 70 assists.
Garrison possessed a full no-trade clause, but waived it to complete the deal.
Costello was originally selected in the fifth round (146th overall) of the 2009 NHL Entry Draft by the Ottawa Senators. The Canucks acquired him via trade in March, 2014. In 40 games with the University of Notre Dame in 2013-14, he scored 13 goals and added nine assists.
In a clear cap clearing move, the Canucks retain no salary, clear $4.6 million for 6 years, and get rid of another one of the numerous No Trade Clauses that former GM Mike Gillis put into place. The Lightning on the other hand, acquire a top-4 defenseman to help them on their playoff push for just a 2nd rounder.