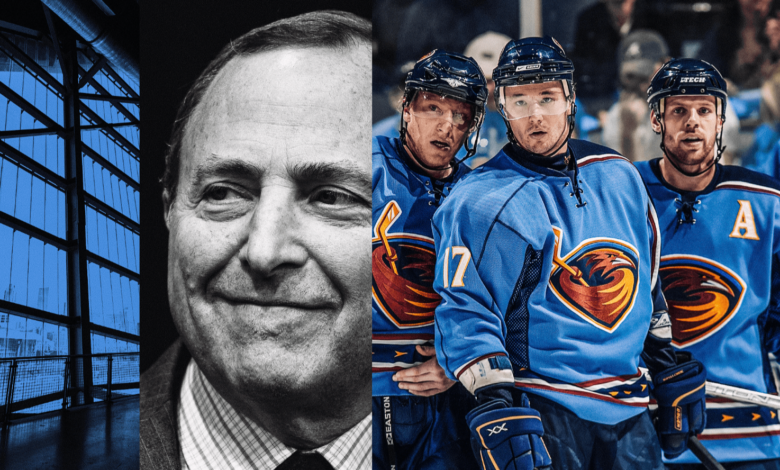 There has been a lot of discussion about the Coyotes' future home and the ideal scenario for that franchise over the past few weeks. Houston, Salt Lake City, and even Kansas City have been mentioned along with other well-known cities, but Atlanta has remained largely unnoticed.
The NHL is reportedly giving the Atlanta region considerable consideration for a potential Coyotes move, according to truster insider Elliotte Friedman, who was recently on the Jeff Marek Show. The arena for the team would be constructed in Alpharetta, a small community west of Atlanta.
Elliotte on NHL expansion or relocation:

There's a lot of momentum for Atlanta. The word here is if that rink can be built in Alpharetta. That is very real.

(Marek Show)

— Taj (@taj1944) June 5, 2023
Even though the Coyotes would play in this city rather than the Atlanta Thrashers, Georgia would once more host an NHL hockey team.
The NHL has twice attempted—and failed—to establish an NHL team in Atlanta. The first effort saw the Atlanta Flames migrate to Calgary, and the second attempt had the Thrasher move to Winnipeg, where they were rebranded into the second incarnation of the Jets. The NHL decided that Arizona, which had already lost its NHL team, was a city more deserving of having an NHL team than Atlanta.
Daly was asked about Atlanta striking out twice already with NHL teams and the idea of giving that market a third try.

"Quite frankly, look, when we first expanded there, it was 1972," Daly said. "So the world has changed a lot since 1972. Some might argue that the second time we expanded there with the Thrashers, the building was not built in the best part of Atlanta in terms of facilitating support for hockey.

So are there better options going forward? We've been told there are. I think the game has changed. I think demographics of the various markets have changed over time. So the fact that they tried and failed twice wouldn't necessarily preclude a third time."

Translation: It sure feels like the NHL is going back to Atlanta. And it feels like expansion, in general, is coming within the next couple of years.
Numerous people contend that the NHL should strive to build a stadium in Atlanta and integrate with the local community rather than locating a third Atlanta club in a suburb like Alpharetta. The NHL can expand the game in the way they've been saying they want to for years but haven't been able to by marketing directly to Atlantans.