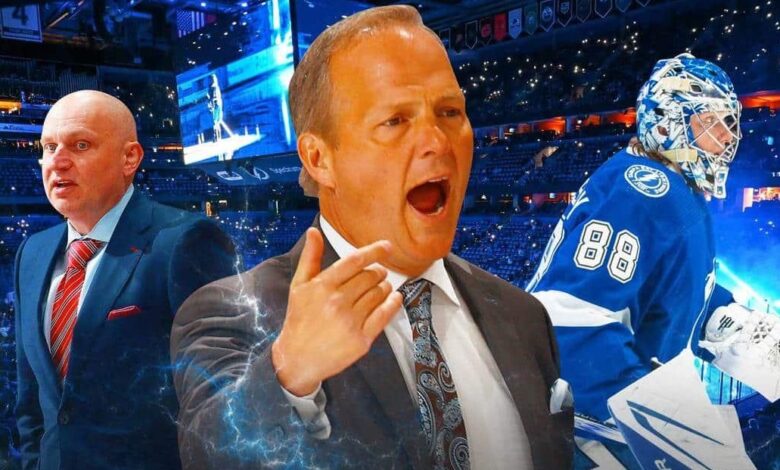 We learned yesterday that Derek Lalonde, an assistant coach for the Red Wings and a former colleague of Jon Cooper, gave some crucial information regarding Andrei Vasilevskiy that could severely affect the Bolt's goaltender.
In a nutshell, the former Lightning assistant coach exposed Vasilevskiy's supposed problem.
"We did a study…he was one of the lower-percentage goalies in finding pucks from the point…we changed our entire D-zone (coverage)."
Cooper then responded.
The Bolts' head coach stated that Lalonde's statement is incorrect and that the reports about Vasilevskiy's claimed frailty are false.
"Sportsnet pays him well to give his opinion, so he has to come up with something about stuff like this." – Jon Cooper

"He's just there because he was an assistant coach on that team. So, he's trying to give insight and trying to give something relevant to the fans, and he should just make sure it's accurate." via Lightning Insider
Any coach would have probably done the same thing to safeguard their player. However, the Leafs are sure to try a lot of shots from the blue line in the following game.
The timing isn't great because if the Leafs defeat Vasilevskiy, Tampa Bay's season will be over.
The series resumes tonight in Toronto.
Asked Jon Cooper about Derek Lalonde's comments on Sportsnet regarding Vasilevskiy "He's there because he was an assistant coach on this team. So he's trying to offer insight and trying to give fans something and he should be doing that. He's just got to make sure it's accurate"

— Lightning Insider (@Erik_Erlendsson) April 26, 2023