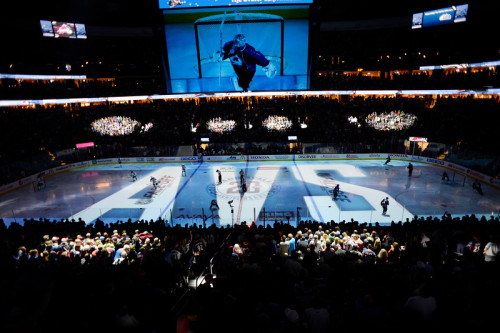 Last Season Record: 39-31-12
Key Additions: Mikhail Grigorenko, Nikita Zadorov, Blake Comeau, Francois Beauchemin, Jack Skille, Mikko Rantanen.
Key Subtractions: Ryan O'Reilly, Jamie McGinn.
The Colorado Avalanche are celebrating their 20th season since relocating from Quebec City, although, "celebrating" is probably not the best word to describe it. After finishing in the basement of arguably the most competitive division in all of the NHL, the Colorado Avalanche slightly re-tooled their lineup, shipping off Ryan O'Reilly and Jamie McGinn to Buffalo for Mikhail Grigorenko and Nikita Zadorov; arguably the losers in this trade, if Patrick Roy has the right coaching stuff to make Grigorenko and Zadorov play to their full potential, this may be another winning season, with playoffs at the end of the road.
This team is fast, skilled, and unfortunate enough to play in the Central Division. Their biggest hurdle this season is going to be finding the grit to compete with the Winnipeg Jets, the defensive prowess to overcome the resurgent Dallas Stars, the determination to beat the Minnesota Wild, the offensive moxie to power past the St. Louis Blues and Nashville Predators, and the capacity to outlast the Chicago Blackhawks. In a division this competitive, it's hard to see the Avalanche getting far, but it's hard to see them finish last.
In order for this team to succeed, health is a really key point; with Nathan MacKinnon missing 18 games and Erik Johnson gone for 35. Varlamov faced an average of 31.4 shots against per game, letting in an average of 2.4 goals per game. This team is built to trade chances and bury you in goals, as long as they can get past the defense. With aging stars Jarome Iginla, Alex Tanguay and Francois Beauchemin, maybe that game will be a bit more difficult. Only time will tell if they can keep up.
Key Questions:
How will Mikko Rantanen adjust to the NHL?
Is there something in the water in Cole Harbour? If so, can Nathan MacKinnon play more like the other Nova Scotian town's favorite son?
Just who exactly is going to back up Semyon Varlamov? Will it be Reto Berra or Calvin Pickard? Are either of them expendable come trade deadline?
Crazy Predictions:
Reto Berra will be traded, freeing up space for Calvin Pickard and his .932 save percentage, which will seem to backfire at first, but will get Colorado to a game 7 heartbreak loss in the playoffs when Varlamov gets hurt down the playoff stretch. Patrick Roy does not lose his temper to the extent of almost crushing Bruce Boudreau, but does something equally outrageous in a press conference.
Line Combinations:
Comeau – Duchene – Iginla
Landeskog – MacKinnon – Tanguay
Rantanen – Soderberg – Rendulic
McLeod – Mitchell – Skille
Beauchemin – Johnson
Barrie – Guenin
Zadorov – Holden
Varlamov (Berra)
Projected Finish: Fourth in Central, eliminated in first round of playoffs.
Love Reading About Hockey?

Subscribe to keep up-to-date with the latest and most interesting hockey news!
| | |
| --- | --- |
| | We hate spam just as much as you |