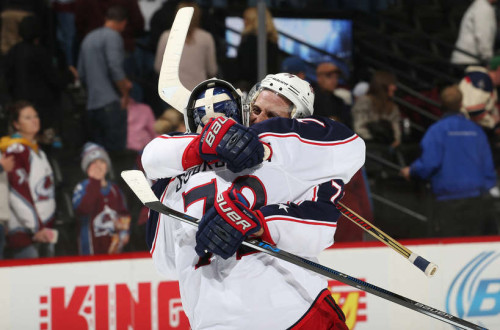 The Columbus Blue Jackets defeated the Colorado Avalanche 4-3 and everyone in Columbus can exhale – a little bit.
Last nights victory marked a couple of firsts:
• Blue Jackets first victory of the season.
• Blue Jackets first points of the season, they lost all previous 8 games in regulation.
• John Tortorella's first win as a Blue Jacket as he improves to 1-1.
• Ryan Murray scored his first goal of the year. Murray is going to be a big part of this team turning it around and scored a big goal to tie the game at 3.
This is a promising victory for the Blue Jackets, Sergei Bobrovsky was strong, making 31 saves. The Avalanche went up 3-2 in the 3rd period and Columbus found a way to fight back to tie it, take the lead and hold off the Avalanche for the win. The determination was finally there, highlighted by a powerplay that has been a bright spot to this slow start.
Columbus has dug itself a monumental hole to start the year. It cost Todd Richards his job. However, hiring Tortorella is effectively resetting the year. If he can get the players to buy into his system and execute, while ensuring his alienating personality doesn't hinder the team, Tortorella my be the shot of adrenaline this team desperately needed.
This week Columbus travels to New Jersey and Washington before coming home to play the Winnipeg Jets. With the Devils' hot start, there is no weak opponent on this schedule. The key for the Blue Jackets to right the ship will be to string wins together and avoid losing back to back games.
Hopefully, last night was the start of something exciting.