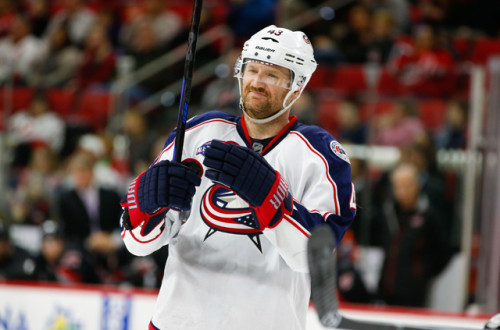 What do you do if you are a veteran of 1,026 NHL games, you are one of the top players on an NHL team but you haven't been playing to your coach's expectations for the last two weeks and find yourself scratched for a game on a Friday night?
Well, if you're Scott Hartnell, you take the benching as the message it is and use it to motivate yourself to get back to your standard of excellence. Hartnell was benched Friday night at home when the Florida Panthers came into town. Without Hartnell, the Columbus Blue Jackets lost 2-1 in a shootout.
The following evening Columbus hit the road to face Hartnell's former team, the Philadelphia Flyers. Hartnell led the charge and scored a goal while adding 2 assists in the team's 4-1 victory over the Flyers.
This is the kind of bounce back game every coach dreams of. Benching a player can be risky, but John Tortorella's move paid off sparking the correct reaction from Hartnell that he desired. It speaks a lot about Hartnell as a professional and shows another strong move by Tortorella, who has had a great deal of success in his short time – in comparison to the awful start to the season the Blue Jackets had.
Securing 3 of 4 points this weekend was a success. The Jackets now turn there eyes to a tough week ahead with games against the Los Angeles Kings, Winnipeg Jets and New York Islanders.