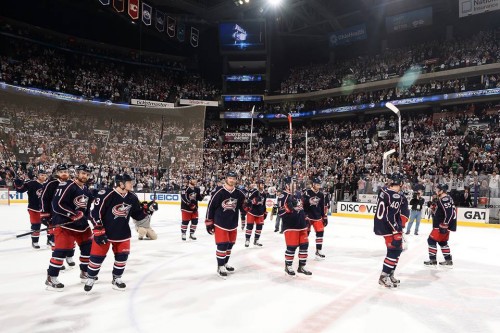 After a long hard fought series the Columbus Blue Jackets have fallen to the star studded Pittsburgh Penguins. Coming into the series many people didn't have much hope in the Jackets, but to most people's surprise that was far from the truth.
The six games played between both teams were far from boring. Its almost as if you wanted the team you were cheering for to be down going into the third period, only because the team trailing came back almost every game. A positive that came out of this series is that certain players stood out and became leaders for the squad.
First up is Jack Johnson, the D-man who led the team with seven points in the post season with three goals and four assists. Johnson simply came clutch scoring important goals and setting up important plays game in and game out.
Second up is centre Brandon Dubinsky; the six point forward had one hell of a series. If you recall he was the one who sent game three into overtime and – lo and behold – the Jackets came out on top.
But last but not least we have Ryan Johansen, the Jackets young gun forward who is coming off of the best season of his career. Almost identical to Dubinsky's numbers, Johansen had six points (two goals and four assists) this post-season, and is truly shaping up to be a key piece for the Jackets future.
Personally I was interested to see how he would preform against the Penguins, and the kid did not disappoint. This season was a breakout year for the 21-year-old, and being the Jackets first playoff appearance since 2009 I, like most people, had my doubts that he would preform under the pressure. I guess being third on the Jackets in post-season points answers that question, am I right?
Overall this series was a blast – and mark my words – this is not the last time we will see Columbus in the playoffs. Coming in next year the Jackets will be hungry for what they have experienced this year, and will want to push that much harder to make the playoffs once again.
Now lets take a look at what Columbus has coming their way come this off-season. Ryan Johansen is going to become an RFA, and I can assure you that he will be resigned to the hockey club on a multi-year contract. If that doesn't end up happening, look out Jacket fans you have an interesting off-season coming your way. But on top of this, I'm sure we'll see moves coming the Jackets way one way or another via trades, contract extensions, and an exciting draft year.
Taking a look at their team, it seems general manager Jarmo Kekalainen and head coach Todd Richards have a solid bunch to work with. Columbus is no longer an "easy night " on the schedule, and teams had better be ready. Off-season training starts now.