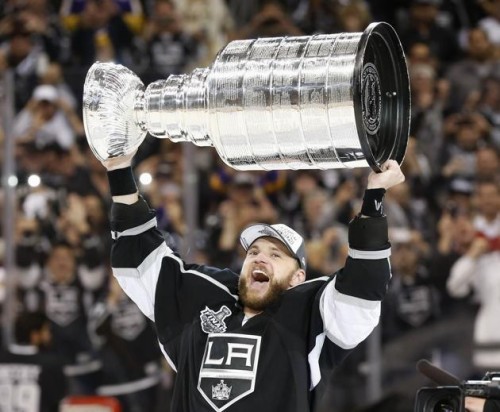 The Los Angeles Kings' president and general manager Dean Lombardi announced they have signed pending unrestricted free agent Marian Gaborik to a new seven-year deal.
Gaborik recorded a league-leading 14 goals during the 2014 Stanley Cup Playoffs for the Kings, who took home their second Stanley Cup championship in only three seasons. Gaborik's 14 goals were one shy of the Kings' single playoff year franchise record set in 1993 by Wayne Gretzky. In addition to that, the 32-year-old native of Trencin, Slovakia ranked fourth in playoff scoring with 22 points, tied for second in playoff power-play goals (3), and tied for third in playoff power-play points with eight. Gaborik appeared in all 26 Kings postseason games.
The 2014 Stanley Cup victory was Gaborik's first career championship. He rebounded from an injury plagued regular season with a postseason full of great performances.
Gaborik joins Claude Lemieux (Colorado, 1996-97) as the only players in NHL history to score more goals in the playoffs than the regular season (minimum 10 regular season goals). Gaborik had 11 goals in 41 regular season games – including five goals in 19 regular season games with the Kings – after he was acquired by the Kings from the Columbus Blue Jackets on March 5.
Gaborik had collected three goals and five points in the Kings seven-game first round series win over San Jose, and he led all players with six goals and 10 points in the Kings seven-game second round series victory vs. Anaheim. In that series, he scored both the tying and winning goals in Game 1, becoming the first player in playoffs history to post the tying goal in the final 10 seconds of regulation – and then the winning goal in overtime – of that same contest.
Gaborik added another three goals and four points in the Kings seven-game series win over Chicago in the Western Conference Finals, and his goal late in the third period of Game 7 forced overtime. Teammate Alec Martinez scored the series-clinching goal in overtime, allowing Gaborik and the Kings to advance to the Stanley Cup Final.
And just like he did in the western conference finals, Gaborik scored two game-tying third period goals vs. the New York Rangers – in Game 2 and in Game 5 of the Stanley Cup Final – with both goals leading to overtime victories for the Kings. Gaborik finished his first ever Stanley Cup final with two goals and three points.
After taking a look at everything Gaborik has accomplished this season, it really shows why the Kings have locked him up long term. He has clearly shown to be a perfect fit for this organization and can help them get that much closer to another Stanley Cup in the years to come.