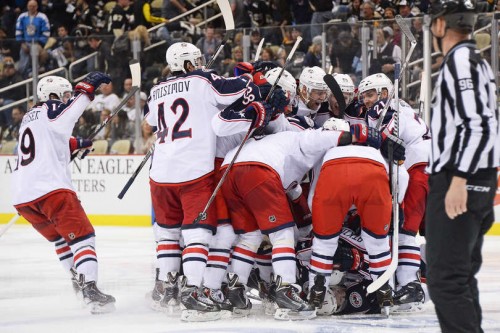 You might think going into the playoffs that the eighth seeded Columbus Blue Jackets would have no chance against the top seeded Pittsburgh Penguins. As of right now that's not the case, the Jackets have a number of key players on their team that contribute. I bet many of you Columbus fans know, the Jackets have won their first ever playoff game against the Pens. They have finally won a post-season game!
Coming off that exciting double overtime win in Pittsburgh, it was with much relief to see some important players step up. Right now Jack Johnson is leading the team with three points in the two games. The second game Johnson looked as if he was very comfortable in the offensive zone and also played a great defensive game. Brandon Dubisnky is another name in the mix; the 27-year-old is second on the team with two points so far in the series. Now someone who we should take notice to is Matt Calvert.
Calvert, who only had 24 points in the regular season, is now third in points in playoffs. The effort he is showing in the post-season is exceptional, and one of those points was the game-winning goal in game two. Its safe to say that he was on top of the world after scoring.
"It's awesome man, every year I've been watching the Stanley Cup Playoffs. You see guys score the OT winner, and you always want to be in that position and know how it feels. It's a tough feeling to explain, and it happens so fast. Everyone jumped on me and I haven't had time to think about it. It's a great feeling, a great win for our team. Our first goal is complete and now we want to go back and play in front of our home crowd and have some fun."
Lets not forget Sergei Bobrovsky, the goaltender has been playing ok hockey as of now, more in the first game. The second game looked much better. He came out confident and managed to save 39 out of 42 shots.
If this play keeps up from the players I suggests you buckle up and hold on because we are in for a great series. Game three is set to be underway April 20th at Nationwide Arena. The puck is set to drop at 7pm.