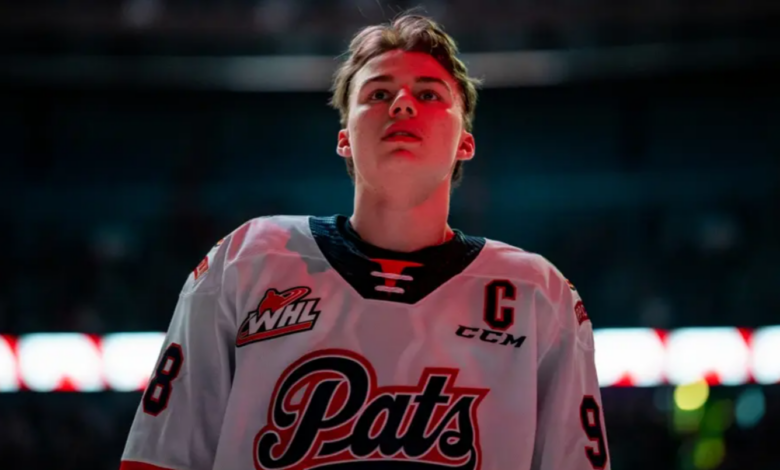 Connor Bedard, who is expected to be selected first overall, has a lot of statistics and data. You are aware that he was the first player to achieve exceptional status in the WHL after amassing 43 goals and 84 points in 36 games for the U18 squad of West Van Academy Prep, finishing top in scoring in the CSSHL (Canadian Sports School Hockey League), and winning MVP honors at the age of 14.
Bedard had 71 goals and 72 assists in just 57 games for the Regina Pats of the WHL this season, but his playoff run with the team was cut short as his team was eliminated by the Saskatoon Blades. Despite this, Bedard still managed to put up 10 goals and 20 points in seven playoff games.
He excelled at the World Junior Championship and was voted MVP after leading all players with 23 points, making him the youngest player to win the award.
This is the information that has been made public prior to Monday's NHL Draft lottery. But then Dan Robson released a touching piece on why Bedard plays, and more crucially, on the profound loss that fuels the young player.
Robson describes how Bedard is inspired to play for his grandfather, who was his biggest supporter until sadly passing away in a tragedy, "a car driven by an impaired driver collided head-on with Garth's pickup truck," in a stunning piece from the Athletic.
Because the forward was on the ice several hours after his father received the death announcement over the phone that day, Bedard's parents and the Pats front office concealed the news from him. The family informed Connor of his grandfather Garth's passing after the game, which saw Regina defeat Swift Current Broncos 6-1 thanks to Bedard's two goals and two assists.
"After the game, Paddock and coach Dave Struch brought Connor into an office where Tom, Melanie and Madisen had called in on speakerphone. The team booked Connor a flight at 6 a.m. the next day so he could join his family, but Connor balked. There was a game later that week and he intended to be there.
"Grandpa would want me to play," he said.
Three nights later, Connor scored an overtime goal to beat the division-leading Brandon Wheat Kings. As his Pats teammates swarmed the ice, Connor pumped his right fist and pointed to the sky. His eyes welled as he spoke about his grandfather to the media via Zoom afterward.
"He's definitely who I play for now and will for the rest of my life," Connor said. "I know he's watching me."
Since he was a kid, Connor Bedard's father has repeated the same reminder to his son: "Don't wish time away."

Here's my feature on the journey of the NHL's next generational star — and why that message means so much to the Bedard family. https://t.co/QEUfcu7H5S

— Dan Robson (@RobsonDan) May 5, 2023
This is what drives this young player… and you can't find anything purer than this.
He will be a star. And yes, Grandpa Garth will be watching.