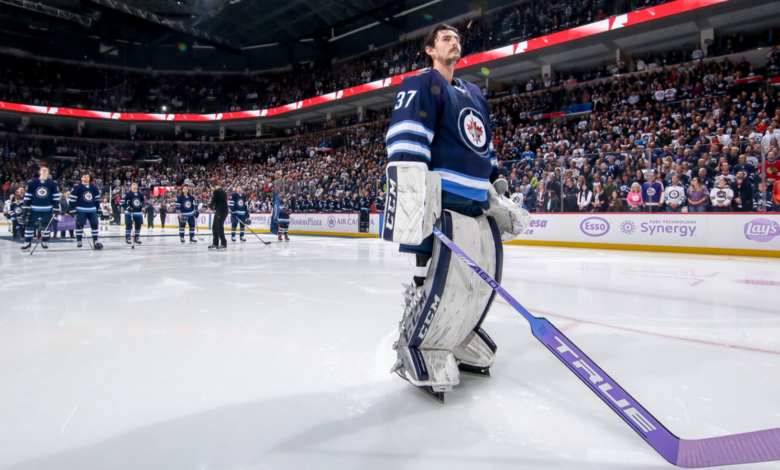 This season, the Winnipeg Jets fought their way into the Stanley Cup Playoffs, but once they were there, they hardly put up a fight.
After winning the opening game in their first-round series against the Vegas Golden Knights, the Jets dropped the next four to lose the series in five games. Now that the team has a lengthy summer ahead of them, there is conjecture that they may undergo some minor restructuring or a mini-rebuild. This season, there aren't many prominent players on the team whose contracts are coming to an end (Pierre Luc Dubois may be the only one), but in the 2024 summer, players like Blake Wheeler, Mark Scheifele, Nate Schmidt, Neal Pionk, and Connor Hellebuyck will all have the opportunity to negotiate new deals. The Jets are rumored to decide on the future of those players this offseason in order to avoid losing them for no return.
Usually Wheeler and Scheifele get all the attention, but Hellebuyck's future is what matters most to me. The player is only a few years removed from winning the Vezina Trophy, and at 29, he still has a few productive seasons left in him.
Longtime NHL writer Larry Brooks claims that if and when the Jets make Hellebuyck available, at least four teams will be interested in him in his most recent piece for The New York Post. The New Jersey Devils, Ottawa Senators, Pittsburgh Penguins, and Los Angeles Kings are those teams, in no particular order.
In addition from Brooks:
Seems to me that GM Tom Fitzgerald's offseason mandate in New Jersey is crystal as the Devils attempt to make the jump from contender to champion, and that is to acquire a franchise goaltender.

And there is likely going to be one available in Winnipeg, with perennial Vezina contender Connor Hellebuyck one year away from free agency and unlikely to sign an extension after seven seasons with the Jets.

The Penguins, currently without a GM, would be interested. The Senators might take a look. The Kings might take a gander at the Vezina finalist who carries a $6.2 million cap hit into next season, which would be a disqualifier for some.

– Larry Brooks
Brooks even goes so far as to suggest a hypothetical scenario in which Hellebuyck would end up in New Jersey.
New Jersey could start by offering Jesper Bratt, the 24-year-old winger coming up on restricted free agency with arbitration rights and a required $5.45 million qualifying offer — and coming off the most disappointing playoff performance of any Devil.

Their 2023 first-rounder is gone, off to San Jose for Timo Meier — who found the way to be a valuable presence in the playoffs with relentless physical play despite the 40-goal scorer getting just two in 11 games.

At this juncture, they have just five varsity forwards, five defensemen and two goaltenders under contract for next season. Vitek Vanecek had a stabilizing year in net but was inadequate in the postseason. MacKenzie Blackwood would be a good one to offer up to the Jets in a package for Hellebuyck.

– Larry Brooks
Personally, I'd rather take a chance on Akira Schmid than sign a long-term contract with an ailing Hellebuyck if I were the Devils. In all honesty, I believe Hellebuyck to be one of the NHL's top goalies, but Schmid appears to be the real deal and has earned the chance to take over in Jersey.
Hellebuyck makes a lot more sense for the Penguins, Senators, and Kings in those cities, especially Los Angeles.
However, NHL analyst Frank Seravalli goes a step further and says that Hellebuyck might draw attention from as many as 7 teams this offseason.
Seravalli claims that the Carolina Hurricanes, Los Angeles Kings, New Jersey Devils, Ottawa Senators, Pittsburgh Penguins, Toronto Maple Leafs, and Vegas Golden Knights are among the teams with interest in signing Hellebuyck.