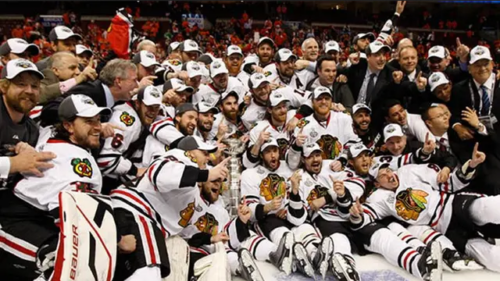 The (shortened) 2013 NHL season was in the midst of the glory years for the Chicago Blackhawks, who had seen their franchise resurrected after being named the worst franchise in all of professional sports by ESPN not even a decade prior.
Not only did Chicago cruise through the regular season, but they also overcame a 3-1 series deficit against the rival Red Wings and then defeated the defending Stanley Cup champion Los Angeles Kings before facing the Boston Bruins in a clash of titans matchup. Brian Bickell and Dave Bolland's goals 17 seconds apart in the final seconds of Game 6 in Boston will go down as two of the greatest moments in Windy City history.
But things are very different now for the Blackhawks, who are in full rebuild mode and are also coming off a stunning controversy that has left the organization with a permanent cloud of shame over how they handled the sexual assault of former player Kyle Beach by video coach Brad Aldrich during the 2010 postseason. Meanwhile, the Patrick Kane and Jonathan Toews era is officially over, with the former having been dealt to the New York Rangers while the latter played his final game in a Blackhawks uniform last week.
A few more former Blackhawks players from the 2013 Cup-winning team are speaking out about the organization's failure to recognize their achievement a decade later.
"We're all hoping they do one," Brandon Saad said with a shrug. "I know there's usually a 10-year reunion, and we're hoping they do it. Hopefully, whenever it is, we're not playing and I have a chance to come back and enjoy it. It's always nice to get back with guys you had success with."

"I don't know if it's been delayed or something like that. But we're all still hoping."
Meanwhile, another participant, who requested anonymity, stated that it appeared to be part of a trend.
"It's like they just want to move on from us completely," the player said. "Doesn't make much sense to me."
Another former player stated that "nobody asked" members of the 2013 team for a date on which they could all be recognized at United Center.
Unfortunately for the Blackhawks, this is just another lump of coal in the stockings of fans who thought they were on top of the world at this point in 2013.