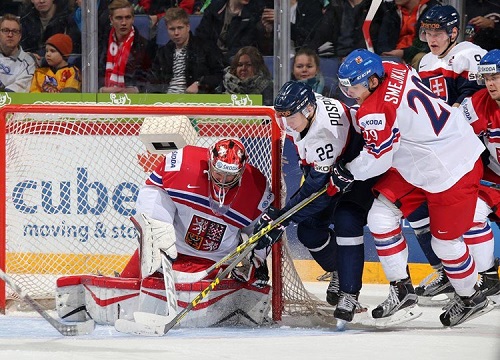 The Czechs took on their neighbors, the Slovaks, on Monday and ended with two unanswered goals.
The first period finished with no goals for either team, however the Czechs produced more scoring chances than the Slovaks. The period ended with Czech goalie Vitek Vanacek totaling two saves and Slovak goalie Adam Huska totaling 10.
Jakub Zboril's tripping call in the beginning of the second period allowed for a scoring chance for the Slovaks, but they were unable to score on the power play. The second period tallied more periods than goals, as Czech's David Kase and Slovak's Juraj Siska each spent time in the penalty box.
David Pastrnak, 19-year-old Boston Bruins forward, scored the first goal for the Czechs on the power play from Siska's penalty. Pastrnak's goal was assisted by Zboril and Kase. The second period ended with another power play for the Czech Republic after another tripping call on Slovak's Siska.
Slovakia had 10 shots on goal in the second period, and Czech Republic finished the period with 13 shots on goal.
Third period had little to no action, however Dominik Lakatos put one more point on the board for Czech Republic, assisted by Filip Hronek. Vitek Vanacek made 32 saves for Slovakia and Adam Huska finished the game with 18 saves for the Czechs.
Czech Republic is currently in second place for Group B. Two games remain for the Czechs in the preliminary round.